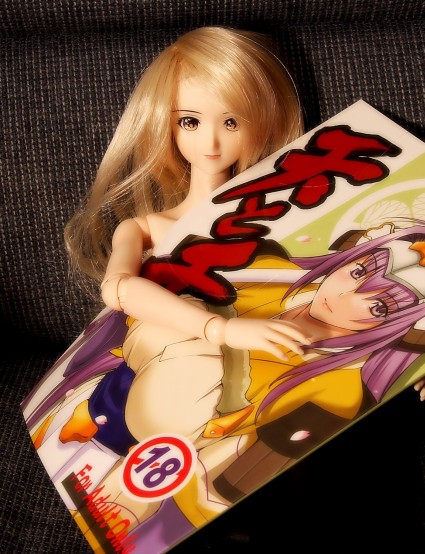 People are surprised when I tell them that I collect dolls, and what is perhaps even more surprising is that I've been collecting dolls for far longer than I've been buying anime figures. I don't play around with them much – most are stuck in a drawer or in a couple of cardboard boxes now – but I do enjoy buying them and dressing them up. More recently, I've begun collecting doujinshi, and with most of my June preorders yet to ship I thought that I'd take some time to share these things.

Perhaps my favorite doujinshi is Grindcore. This book was published by Gin no Hoshitei, the circle of Akito Tamiya. He also did the artwork for the h-visual novel Zanjibaru, which I liked a lot. Zanjibaru incorporates some strange fetishes, such as belly expansion, massive insertions, and larva birthing, but this book is fairly straightforward tentacle sex. What makes it hot is that it seems that Nanoha is the one plugging up Fate with tentacles.
This doujinshi is mostly black and white, with several colored pages in the middle.
Gin no Hoshitei has also done a sequel, or at least a book that is identical in theme, called In Search of Sanity. It's more of the same and it looks great.
Have you ever seen anyone take as much joy in their work as Nanoha does here?
Moving on to another Fate Testarossa doujinshi, this one is from the circle Type-G. This one's a pretty fun book, and there's an English translation floating around out on the internet so I can understand what's happening.
And here's the followup book, which has Fate getting banged by some faceless guys.
This one is by Studio PAL. I randomly came across one of their works – a Dragon Quest doujinshi – on the English version of DLsite. I went ahead and bought it and was slightly disappointed to find that it was in PDF format, which is a bit unwieldy to view compared to a directory of JPEGs. However, I really liked the artwork, so I was happy to learn that they've put out a number of Magical Girl Lyrical Nanoha books. This one is called Mahou Shoujo Dai Pinch, I think, and has Fate being accosted by some evil dude. Anyone know who this metro-looking purple-haired wanker is?
Unfortunately the Fate part is pretty short, and the rest of it shows a brief sexual encounter between Teana and Subaru. At least, I think that's who they are; it's not in color and being generally unfamiliar with the Nanoha characters, I rely on hair color to help identify them.
There sure are a lot of Nanoha doujinshi out there. This one's from Cyclone, and despite what it says on the cover, is entirely black and white on the inside. It's basically just an omnibus reprinting of several of Cyclone's doujinshi: 840, 850, 860, and 865. Very nicely drawn, though being Japanese-illiterate it's difficult for me to tell what's going on. It seems that Fate gets mind-controlled in one of these books, because she beats up and rapes Nanoha. I think, anyway. It's a couple hundred pages long, which gives it good value for the money.
Taking a quick break from the porno stuff, this book is titled Daughters of Mogthrasir. At least, I think that's what it says. What's a Mogthrasir? Wikipedia has the answer. Back when I was a kid, I wished that I had a machine that could answer any question I wanted to ask, and now, we have Wikipedia! Is technology not wonderful? Unusually (for me), this book doesn't involve any sort of sexual activity. I pretty much bought it because I liked the cover. And Muv-Luv. For someone who knows almost nothing about Muv-Luv, I sure do buy a lot of Muv-Luv stuff.
Uhh, no idea what that says on the cover. I plugged it into an auto-translator and it comes back with "Sandome no Make Sen Torawa Reno Hime." No idea what that means, either. Anyway, this book is about my favorite Sengoku Rance girl, Senhime, and is by the circle Veronicanoha. She doesn't seem to have many doujinshi out there, so I'm glad that this book has some very nice artwork. I wish that I could read Japanese, since it seems that she's either recounting a fantasy of hers to Rance or she's describing something that actually happened. I'd like to know which it is. Maybe I ought to try learning Japanese one of these days. I studied engineering in school, and half of it was in bloody Greek letters, so it can't be that hard for me to learn a foreign language, can it?
Punching this book's title into the same translator gives its name as "Deriketo Bangaihen Kaki Kudashi." It translates that as "Delicate Bangaihen Oyster Evacuation," which I am thinking is not an accurate interpretation. Also, this book is for adlut comics! I guess I shouldn't make fun of that typo, their English is certainly far better than my Japanese. Anyway, this book involves a couple of cheerful girls who share a guy. It's full of happy sex which is a bit of a difference from most of the books that I bought.
All right, that's enough pictures of porno comics for now, let's move on to the doll stuff.
I got this doll a few months back after seeing some pictures of it on Akibahobby. Right after seeing those, I googled the name and got HLJ as the first hit. Happily, HLJ stocks some of Yamato's limited edition items and they had this doll in stock. I went ahead and ordered it, which I suppose was their last one, since it's showed up as discontinued ever since. The doll is named Risa, and Yamato has a few other dolls in the series named Miu (who looks pretty cool) and Miki (who looks utterly terrifying). I wanted a name that sounded a bit more like a porn actress' name, so after some consultation with friends I renamed this doll Simone.
This doll is part of Yamato's vmf50 series line, and they sell a bunch of clothes on their website. Most of the options look like hooker suits, so it's pretty obvious what sort of demographic Yamato is targeting. For example, there's this swimsuit which is basically see-through. Then there's this outfit and this one and that one. Straight up ho-wear. Well, maybe not that last one. Or maybe it is, I dunno. I like them all, though.
I don't have a lot of clothes for this doll; I got the transparent swimsuit (a real pain to put on her), the gym outfit she's wearing now, and some underwear. Most of the clothing options are relatively expensive and sell out quickly, so I'm not all that inclined to buy more stuff.
I also got these hooker boots for the doll. The vmf50 body is somewhat anatomically correct (no anus though) and I did get a request to display it, so here it is:
As the product name suggests, this doll is about fifty centimeters tall, putting it somewhere between 1/3 and 1/4 scale. It's too big to easily display right now so I usually just keep her in her box, like a vampire.
The first dolls I bought were Blue Boy Toys' Cy Girls. These were licensed versions of Takara's Cool Girls dolls and are in 1/6 scale, like most action dolls. They came with a bevy of guns, holsters, and accessories and generally were sold for around thirty bucks back in the day. The two here are Electra (brunette) and Bloody Rose (orangehead). They were part of the third group of Cy Girls and I got them back in 2003, if I remember right. If anyone thinks the Cy Girls name sounds familiar, it's probably because there was a forgettable PlayStation 2 action game based on these dolls.
Bloody Rose is wearing her original clothing but Electra is wearing a suit from Triad Toys. I've got a bunch more Cy Girls but I ran out of time while shooting these photos so they'll have to wait till a follow-up post.
My newest doll is Deunan Knute, the heroine of Appleseed. This doll was manufactured by Hot Toys. I had wanted it for a very long time but could never quite afford it, but I had an opportunity to acquire it not so long ago and jumped at it. She comes with a ton of accessories – rifle, handgun, sword, watch, holster, sighting system – and a bunch of hands. The hands are the weakest part, I think – they mount using some very narrow pegs, which seem quite fragile. In fact, I snapped one while taking these photos. Fortunately I keep super glue around for such contingencies, but now I can't pose her right hand. Regardless of her delicacy, this is a great, great doll. Maybe I ought to give Deunan her own review because she looks fantastic.
I've got a couple of male dolls, most notably the president of the United States. This doll was manufactured by a company called DID. The president came with some extra hands, an American flag, a blue necktie, a watch, and a work stool (no idea why). He also comes with two different heads – one shouting, one calm-looking – but it's a real pain to swap them; the plastic of his neck isn't very elastic, so it's very difficult to fit it over the thick neck post.
This is how the president makes love. Though Deunan definitely has the upper hand here because none of the president's extra hands are shaped to hold a gun.
Why is the president pointing there? Well, because I don't remember where I stashed his hands so I can't swap it out. And besides, this president is a fan of booty; he's not afraid to show that he knows what he likes.
I've got more doujinshi and more dolls, but since this post is already running long I'll break it into a two-parter. Stay tuned!