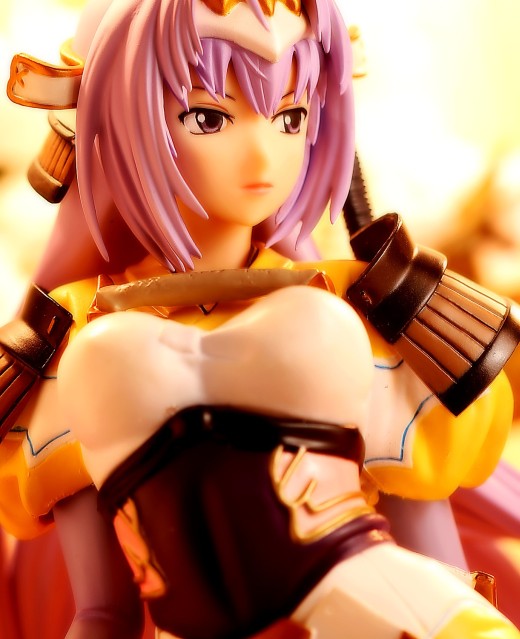 I was thrilled to learn that FREEing planned to follow up their version of Kenshin with my favorite Sengoku Rance girl. I got my preorder in right away and counted down the days until her April release date. Of course, figure manufacturers delight in my disappointment, and so Senhime got punted back one month and then another. In a happy bit of serendipity, the delay threw her right into Amiami's 15% discount sale, and given that she was relatively pricey, I guess I don't mind.

Senhime is manufactured by FREEing in 1/5 scale. This is my first figure from the manufacturer and looking over their lineup, it looks like they do a lot of larger-scaled figures, which I surely approve of. They're probably best known for their 1/4 scale figures of characters from Lucky Star and Haruhi Suzumiya, and having seen those elsewhere, I was reasonably confident that Senhime would look pretty good.
Senhime's size is apparent despite her kneeling posture. Measuring about 20 centimeters tall to the top of her head, she's already level with many 1/8 scale figures. She's 35 centimeters tall overall, necessitating a shelf or space with an extra bit of clearance.
I own a lot of figures, but I think Senhime is the first I've bought that doesn't come with a base. She doesn't need one, of course, but many manufacturers toss one in even if the character is kneeling or sitting down. I usually don't bother with it for such figures so I don't mind this omission.
Paint is a mixed affair. There are visible dots and specks on her clothing, but her hair is an attractive shade of violet and the golden accents on her armor look nice. The biggest problem is her clothing. Some of my favorite figures feature realistic clothing but in this case, Senhime's dress looks very much like a chunk of painted plastic. The yellow parts of her dress are reminiscent of a child's plastic raincoat. I'm not certain whether the brown parts of her pauldrons are supposed to be wood but if they are, they look about as wooden as Lego blocks from the forestmen set.
As befits her h-game origins, Senhime's clothing can be removed. It's sort of a cumbersome process, with her dress detaching in three parts. I also found it a bit difficult to get her arms locked in all the way.
There's a very peculiar aspect of her design, and that's the detachment point at her waist. I'm not really certain why she can be separated like that; there are a lot of figures that need to be bisected to remove a skirt, but Senhime's not wearing a skirt. The lower part of her dress wraps around her hips rather than fitting over them in one unbroken piece, and you can't even reattach her torso without removing that piece. As far as I can tell, all this does is add an ugly join line above her underwear.
Speaking of join lines, they are readily apparent on her clothing and normally, I'd deal with them by not putting clothing on the figure. However, Senhime's design makes that problematic; when stripped down, her head looks disproportionately large and her neck looks peculiarly long. I surmise that her neck is that long to give some clearance for her hair while she's dressed, but personally, I think they should've shortened both her hair and neck. And shrunk down her head. It's a shame since she's got a pretty nice body otherwise.
Oh, and before anyone asks, I made certain to push her head in all the way. This is as far down as it goes.
Her dress suffers as far as sculpting quality goes, its plastic appearance exacerbated by the lack of texture or extensive wrinkling. I like her feet, though; actually, her legs look fine, her stockings featuring some subtle shading and the requisite wrinkles.
While Senhime has a number of technical flaws, aesthetically, I like her a lot. She radiates a sense of nonchalant competence and serene confidence, matching her personality. The flare of her violet tresses adds a bit of drama to the figure and gives those collectors with a purple hair fetish – myself included – something to fixate on. The length of her spear is very impressive, and her repose effects the sense that she knows how to use it.
Overall, I'd say this is a decent figure though admittedly, there's a sizeable tilt in my assessment due to Senhime's status as my favorite character in Sengoku Rance. I am going to be favorably disposed towards anything bearing her likeness regardless of its flaws, and FREEing's figure is certainly not without flaws. If they'd done a better job on her body proportions, this would be one of my favorite figures of this year. As they did not, much of my fondness for this figure is due to my fondness for the character. I suppose that's not an entirely negative thing, as I often know very little about the characters whose figures I collect. I'd say that I'm reasonably satisfied with Senhime, though I'd hoped for better.
This isn't the only Senhime figure I've recently received, and with Alter's brunette Senhime due to ship in a week or so, I am henceforth declaring the start of Senhime Week. Yeah, I probably won't be receiving the third Senhime until after a week's time, but that's fine; I'm American, I don't know how to count. Heck, we use a temperature scale that sets its most significant points at -459, 32, and 212, so fudging the duration of a week comes naturally to me.
One thing I forgot to mention: I've been told that the thing above her bust somewhat resembles a turd. I hadn't even noticed the thing prior to that being pointed out to me, but having been so informed, I find it difficult to avoid looking at it now. Odd how that happens.