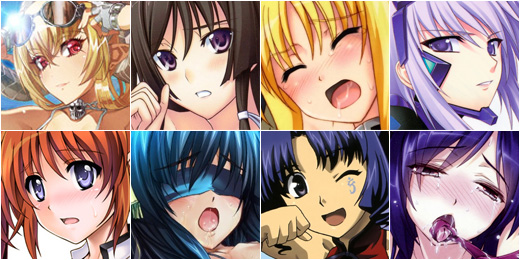 It's been a couple of months since the last preorder post, so it's a good time for a new one. A lot of very nice figures have gone up for order recently, and there was also all that weirdness between Orchid Seed and Amiami, so there's a lot to talk about; let's get to it.

December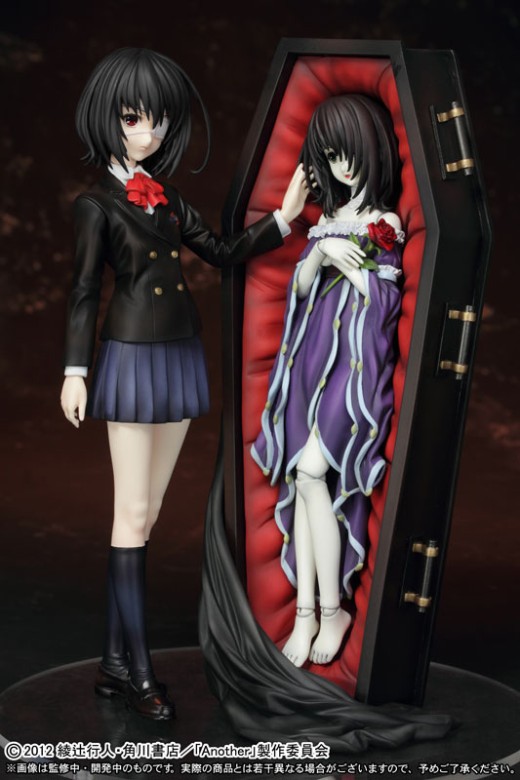 Mei Misaki from Another
Certainly a distinctive figure, this is not a product that I'd expect Griffon to make. I try to stay away from the whole "tiering" thing of manufacturers – I've got some figures from Good Smile Company, Alter, and Max Factory that I don't think are that great, and I've got some figures from less-esteemed makers such as Kotobukiya and Yamato that I think look fantastic – but frankly, many of the earliest figures I bought are Griffon figures and I've had a long time to form an opinion of their quality. That opinion isn't positive but that said, many of those figures are Ikkitousen figures, and perhaps their low quality is excusable not just because they are old figures but also because not many makers seem to put much effort into making Ikkitousen figures (that peculiar gold-plated Ryomou figure that Daiki Kougyou put out a while back is an example of a rather uninspired effort). Really, the only thing that makes me hesitate about this figure is the record of its manufacturer. I suppose the fact that I know nothing about Another should also give me pause, but being clueless about a character doesn't compel me to rule it out. I'll call this one a maybe and see if any of the big Japanese sites get some sample shots up.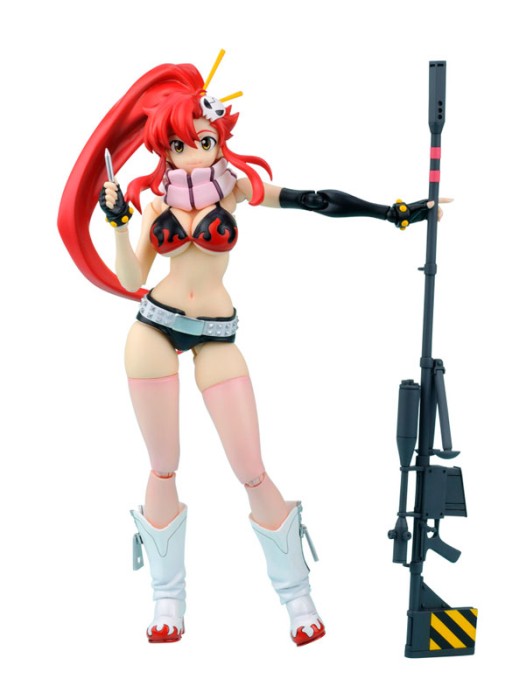 Yoko Ritona from Tengen Toppa Gurren Lagann
Yamato continues branching out into poseable stuff with this relatively large-sized Yoko action figure. There are a couple of reasons I'm not big into action figures; the main one is that the most popular brands – Figmas and Revoltechs – are quite small, being about 1/12 scale. The other reason is that I just don't play with my toys much; the poseability and accessories that Figmas come with become a drawback, since I have to store them someplace and I have to avoid misplacing them. That said, Yamato's toys seem to be a good deal larger than Figmas – Yoko is listed as 22 centimeters tall, which would make her around 1/8 scale, and that'd be large enough that I could incorporate her into photoshoots and use her in some of my stock sets. My main sources of hesitation are her price – 9,280 yen at Amiami – and her face, which sort of reminds me of Sanrio's Keroppi character. I wonder if it's just my imagination.
January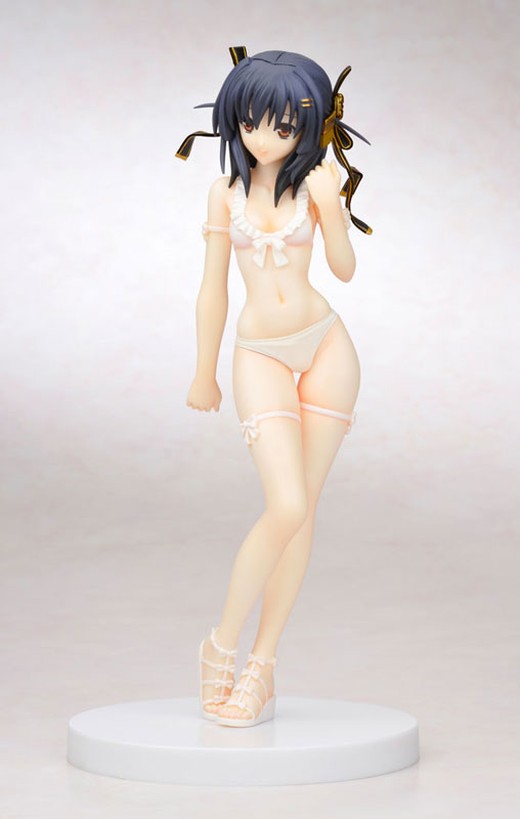 Mikado from Daiteikoku
Fresh off issuing their Retia Adolf figure, Kaitendoh is continuing their Daiteikoku line with this figure of Mikado, the cutest, most upbeat emperor in the galaxy. I liked the Adolf figure a lot, and Mikado is one of my favorite characters in Daiteikoku, so it didn't take much consideration for me to put this on my order list. Like Adolf, this figure was sculpted by Ken Yokota, who also made a number of GSC's best-regarded figures, and I wonder if he'll be making more stuff for Kaitendoh.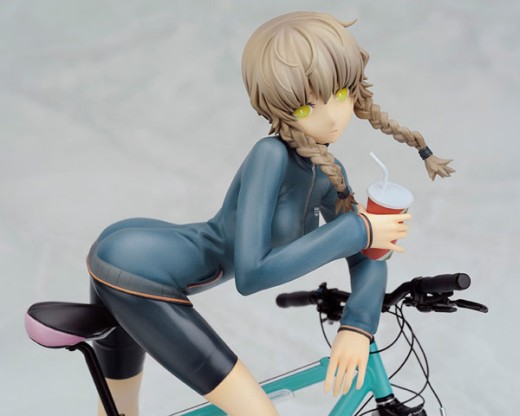 Suzuha Amane from Steins;Gate
Back when I reviewed Kotobukiya's Kurisu Makise, Steins;Gate was a rather obscure Xbox 360 visual novel. Since then, it's gained a large fanbase, thanks to a well-received anime. I think it's also been ported to the PS3. I have neither played the game nor watched the anime (though it's on the list of stuff I should watch, joining Clannad, Last Exile, the second half of Fate/zero, and the seventh DVD volume of Angelic Layer), so I'm judging this figure purely on its visual appeal. I'm a big fan of cute girls in tight sportswear, and so I like Suzuha's outfit quite a bit. I also like the contrast between her bike-riding exercise and her unhealthy soft drink consumption. I went ahead and ordered this figure, since I'm sure it'll be a high-quality figure and I might get to watching Steins;Gate by the time it comes out.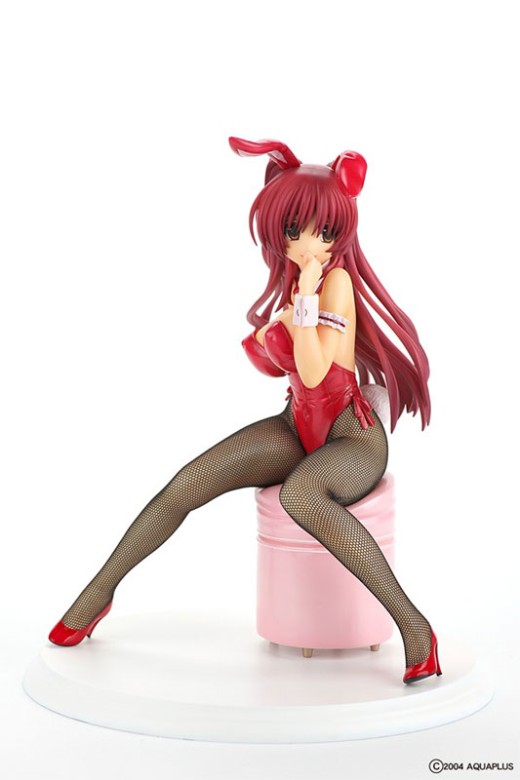 Tamaki Kousaka from To Heart 2
Few characters have the sort of popularity that Tamaki has – at least amongst figure manufacturers. We've seen all sorts of Tamaki figures, and now Orca Toys is making one of Tamaki in a bunnysuit. Unlike FREEing's figures, Tamaki is 1/5 scale, so while she's a bit smaller than their line, she's still going to be quite large. Although I have to think that my collection doesn't need another Tamaki figure – particularly being that I wouldn't name her one of my favorite characters – it's going to be hard for me to resist this one. She looks fantastic – Amiami has a bunch of pictures of her – and there really isn't anything negative I can say about her, except apparently that Orca Toys might be a spinoff of Okayama Figure Engineering. Okayama is, along with Native and Giga Pulse, one of three figure makers who almost exclusively make ero figures. It's telling that despite my fondness for ero figures, I don't own a single one of their products. Nonetheless, Tamaki looks really nice and I'm hoping that the final product matches the sample photos.
February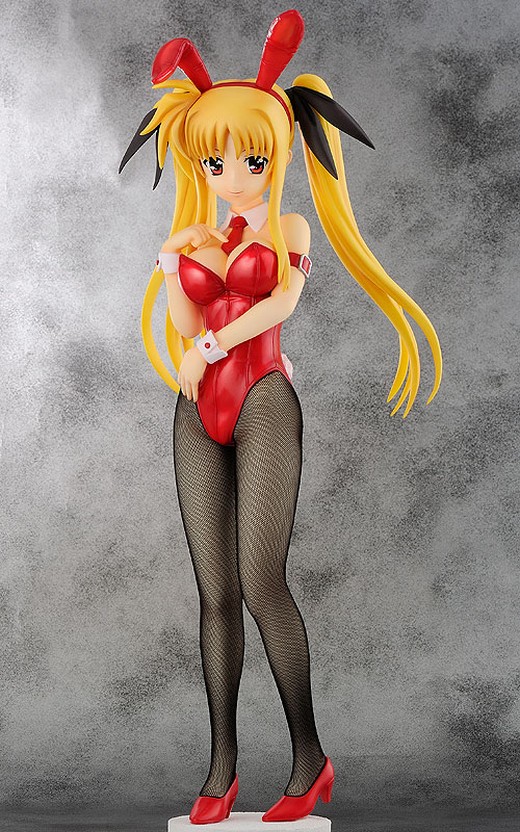 Fate T. Harlaown from Magical Girl Lyrical Nanoha StrikerS
This post would not be complete without a Fate Testarossa figure. This one is manufactured by FREEing, the latest in their long-running line of bunnygirl figures. I'm not a huge fan of bunnygirl figures – I like the suits but I don't care as much for the ears and tails – but Fate looks pretty great (as does the Tamaki shown above). I liked FREEing's Nymph and I'm sure Fate will be just as good.
I've ordered both Fate and Nanoha, but I'm not sure if I'm going to get Hayate; I know very little about Hayate's character and I don't think her character design is as attractive as the other two lead characters.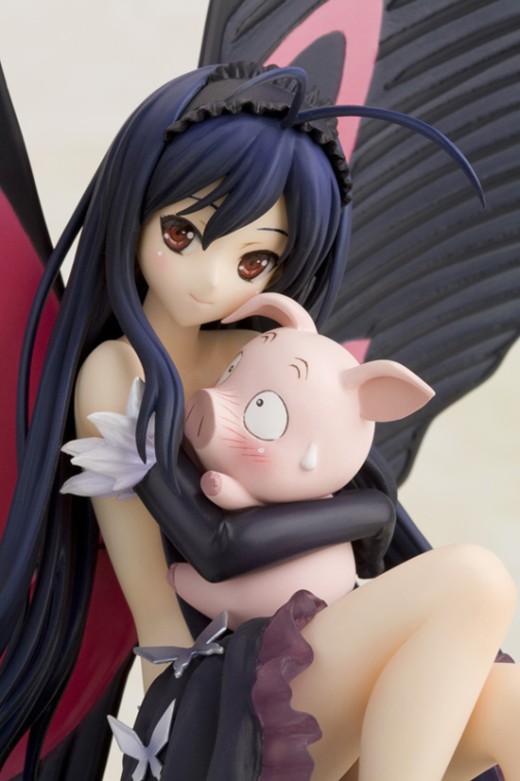 Kuroyukihime from Accel World
Accel World is one of those anime series that got a good deal of hype before and during its run. My interest in the show lasted about ten minutes, which is about as long as it took for me to recognize the lead male's voice actor. The lead girl has a very nice character design, but it's difficult for me to get past the idiocy of the show's premise and my dislike of the pig (the pig is the lead male, if anyone is curious). The pig seems to be removable, so if I get it, I might put something else in Kuroyukihime's lap and then mutilate Porky.
The best thing about Accel World is that it inspired this piece of fan art by noted artist Matsuryuu.
And speaking of Kotobukiya, if anyone wants their Inia Sestina school swimsuit figure, your best bet might be at Amazon, where they're selling her for $47.49 shipped. That's not a bad deal at all. Unless you live outside the US, I guess.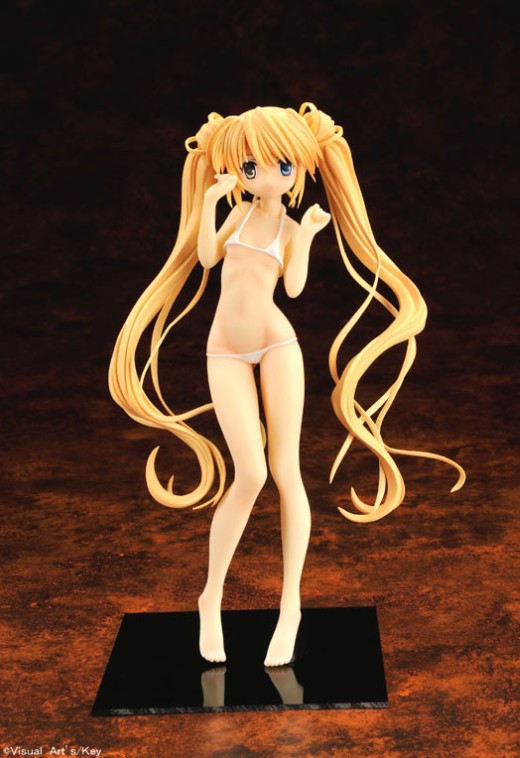 Shizuru Nakatsu from Rewrite
Besides Griffon, BEAT is the other company I tend to stay away from. I've got a couple of their figures – their Tamaki doesn't look that great and Wind Goddess Rafale is the queen of leaners, on top of not looking that great. However, Shizuru looks pretty nice, nice enough to overcome my misgivings. I like her expression, her big twintails, and her squiggly-looking legs. I also like that her bikini top can be removed. BEAT is making two versions of this figure, one with an eyepatch and a pink swimsuit and the one depicted above, which is the one I ordered.
March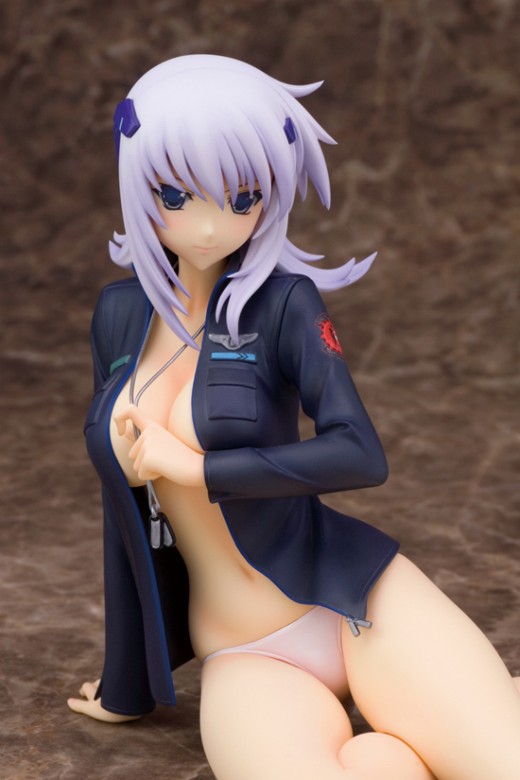 Cryska Barchenowa from Muv-Luv Alternative Total Eclipse
An apparent tradition amongst figure makers holds that female mecha pilots cannot be sculpted standing up. I'm at a loss to explain why this is so, but it seems the great majority of Evangelion figures have Rei, Asuka, and the new girl either lying on the ground or sitting or kneeling or reclining on something (the 1/6 scale Max Factory figures are a notable exception). This tradition is carrying over to Total Eclipse, where it seems that not only can they not be sculpted standing up, they have to wear only swimsuits or their underwear. That's rather unfortunate, since I really like their pilot suits, and I wasn't going to consider buying this figure because I already have Alphamax's earlier Cryska figure. Then I noticed that this figure is listed at 1/6 scale and my interest perked up (with me, it doesn't take much). Now I'm thinking that I'll order this figure; maybe it's not the Cryska figure I'm looking forward to, but hey, it's big, it's relatively cheap, and it's got her in her panties. It doesn't take much.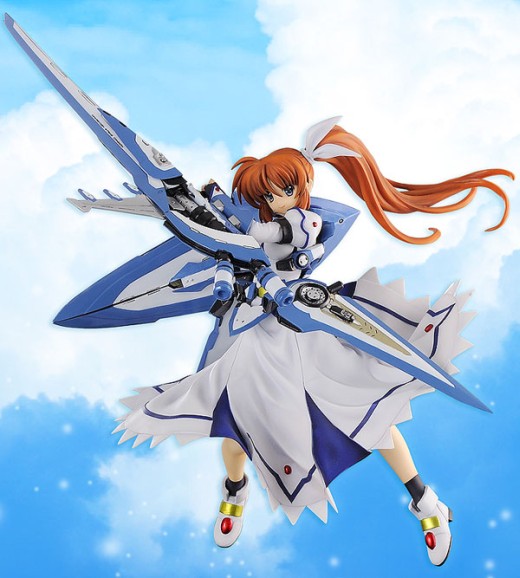 Nanoha Takamachi from Magical Girl Record Nanoha Force
I was really interested in this figure, up until I saw the price tag, and then I was like "Holy fook" and my enthusiasm evaporated. I'll get the bunnygirl figure instead; for the same price, it's a lot bigger and it's got a much better ass.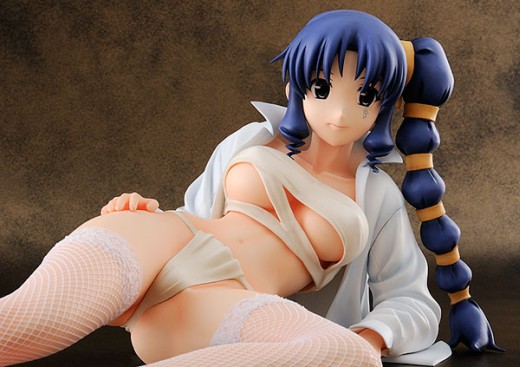 Rana Linchen from Freezing
FREEing is finally following up their figures of Satellizer and Ingrid with Rana Linchen and Ganessa Roland (not yet available for order but visible in Rana's promo photos). Rana – the happy Tibetan homewrecker – was one of the few things I liked about Freezing, and the show would've been a lot more watchable had the focus been on the relationship between her and Satellizer (incidentally, some of the doujinshi published by Freezing's creator is centered on those two). Rana looks pretty nice – maybe not fantastic, but pretty nice – and I think I'm going to order this figure.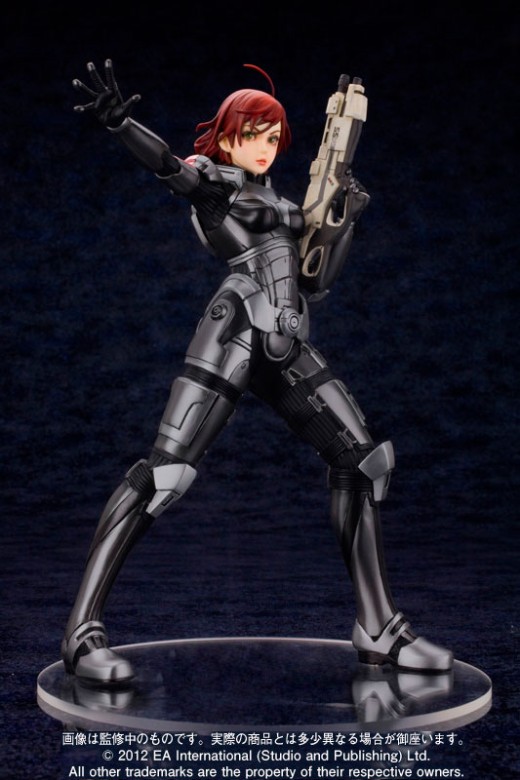 Commander Shepard from Mass Effect 3
If anyone doubts that Kotobukiya's Bishoujo line is directed squarely at Western customers, one need only look at this figure to dispel that notion. Given the sexed-up treatment that other characters have received (the Ghostbusters girl, notably), I'm surprised that they didn't cut the midriff and ass out of her armor. I might have even preferred such modifications but nonetheless, I still like how this figure looks, and the Bishoujo figures are always available at reasonable prices in the US. Although I haven't played Mass Effect 3 yet – or 2, or beaten 1 – I think I'm going to get this figure; Shepard looks assertive as well as sexy, and I like her Heisman Trophy pose, too.
I'm still kinda hoping they do some Mortal Kombat Bishoujo figures someday.
April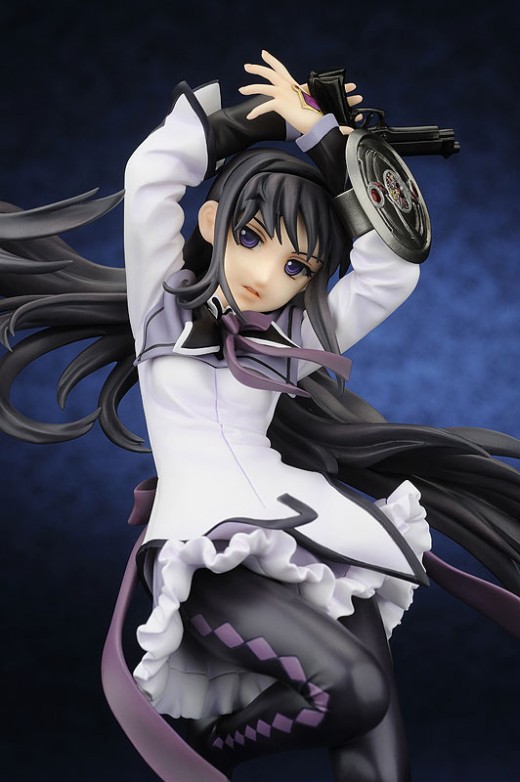 Homura Akemi from Magica Puella Magica Madoka
I'm not planning on getting this figure, but it is interesting to compare and contrast the reception this figure is getting with the reaction to gangsta lean Saber. They actually have very similar faces, with heavy eyelids, very large irises, and full lips. From what I can tell, people seem to be slightly more enthusiastic about Homura than Saber, though that may be in part due to Homura's price tag, which is a good deal cheaper than Saber's.
Man, I like her tights, though. And I like her face, much like I like gangsta lean Saber. I shouldn't have included her here; now I'm thinking maybe I should get her.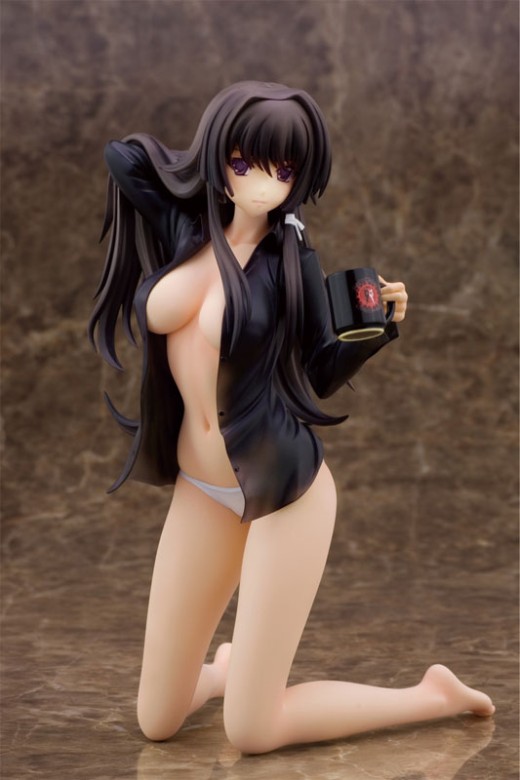 Yui Takamura from Muv-Luv Alternative Total Eclipse
This figure of Yui is the 1/6 scale counterpart to the Cryska we just looked at. Like her commie colleague, a large part of her appeal stems from her lack of pants and her large size. If I get Cryska, I'll probably get Yui too. Looking at the picture, though, I can't help thinking that something about her legs looks kinda off. Maybe it's the taper of her thighs.
The Yui figure I'm really waiting for is Kotobukiya's figure, though. It looks like it's going to be fantastic. However, though Yui is wearing her pilot suit and is standing up, the placeholder art for Cryska and Inia shows them lying down. I guess you have to take what you can get.
May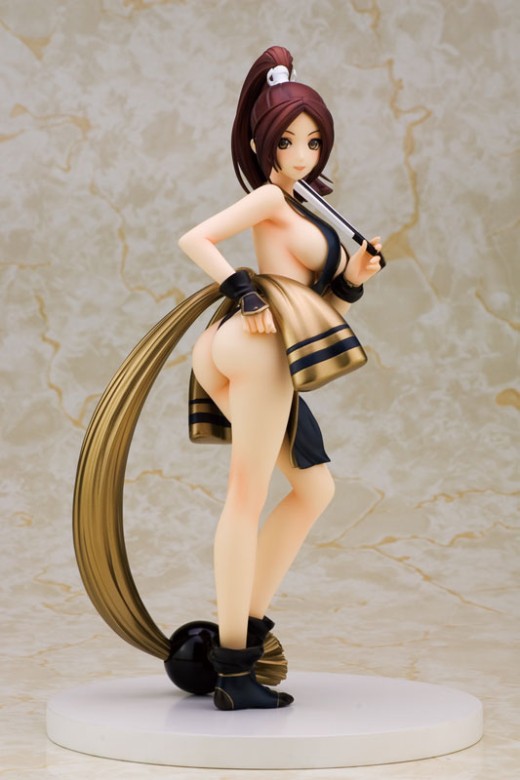 Mai Shiranui from The King of Fighters XIII
Before they started making PVC figures of popular anime characters in swimwear, Alphamax made really expensive polystone statues, mostly of characters nobody had ever heard of. One of the better-known characters they made a statue of was Mai Shiranui. Now they're making a much cheaper PVC figure of Mai. It looks much the same, with Mai flashing a friendly smile while thrusting her backside out. It looks pretty nice, it's 1/6 scale, and the price is good, so I might order this figure even though I own the larger polystone statue (if I do, I'll probably get the black one; there's also a version with her customary red outfit). One thing I don't like is that this figure drops her widow's peak hairline, giving her face kind of a teardrop-shaped look that I don't really care for.
June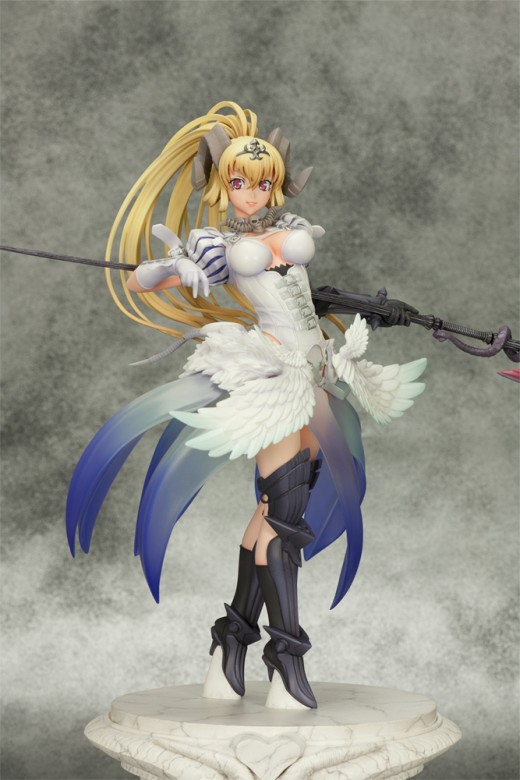 Lucifer from The Seven Deadly Sins
There was a bit of drama surrounding this figure a few weeks ago after it disappeared from Amiami's listings. It turns out that all Orchid Seed products have been removed from Amiami, apparently because of concerns regarding international distribution. Or somesuch. I ordered this figure from Hobby Search, where it is still available. Hopefully whatever business reasons Orchid Seed had for withdrawing their products from Amiami do not affect Hobby Search or HLJ.
Unlike the previous two Seven Deadly Sins figures, Lucifer is being sold through normal retail channels (aside from Amiami). That's a great thing since she has my favorite design of the seven characters and that saves me quite a bit of money. She looks great and there wasn't really any question that I wouldn't order her. At least, unless Orchid Seed pulls their stuff from Hobby Search. Let's hope that doesn't happen.