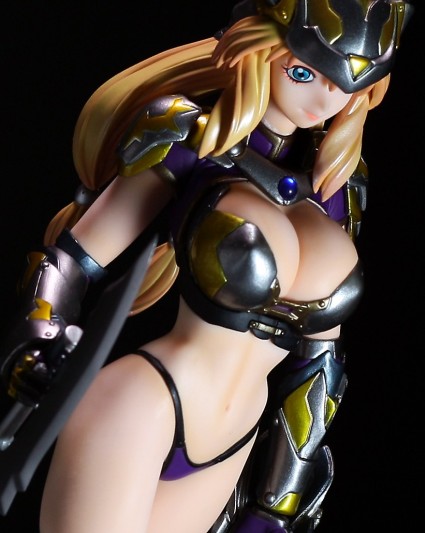 The battle bikini is one of the most stereotypical tropes in fantasy art but if you ask me, it doesn't get nearly as much appreciation these days as it should. For example, when Sega resurrected the Golden Axe franchise, they did the right thing in selecting Tyris Flare as the heroine but then they revealed an appallingly lowbrow taste by giving her pants. To be fair, her famous battle bikini is unlockable, and since the game seems to have been quite awful I doubt anybody else cares, but the mere option of pants still demonstrates the disrespect this timeless battle uniform receives. Also, when Wrath of the Lich King was released, Blizzard inexplicably made all of the armor sets as puritanical as could be, despite having gone entirely the other way when they designed The Burning Crusade. Now, one could argue that a battle bikini might provide inadequate protection in a frozen wasteland, but I have my doubts that a heavy suit of full plate is any more practical for trudging about in the arctic. Furthermore, if realism were really the name of the game, all of the characters would be wearing fur coats and mukluks, as even a full-body cast iron tuxedo ain't going to protect nobody when a hundred foot-long dragon decides to step on you.
Fortunately, the beauty, utility, and elegance of this piece of equipment is still apparent and to that end, we have here an homage to the battle bikini in the form of Wind Goddess Rafale. I don't see anything here that validates her divinity, but I will take the manufacturer's claim for what it is worth.

When I think about Beat, the first thing I have to think of is this review of Choun Shiryu. That figure started out full of promise but ended up as perhaps the biggest atrocity Japan has committed since Unit 731. Being quite unfamiliar with the company, that quality of that figure was enough to give me pause, but I figured that Rafale was simple enough that it'd be pretty hard to screw her up; her pose is straightforward and the sculpt isn't particularly elaborate, so what could go wrong?
This figure was sculpted by Amaha Minatogawa and I have no idea who he is. A search through Tsuki-board indicates he's done a few other figures of similar theme, and it seems he's also done a few garage kits of characters from Sailor Moon and Lunar: Eternal Blue. At any rate, I don't think Rafale has a character background or anything.
There's not a lot to say about Rafale's sculpt. She's posed with one foot forward, or perhaps in mid-stride with a nice thigh gap. She's got bits and pieces of armor which include high heels (always the footwear of choice for the discerning warrior). One peculiar aspect of this figure is the limited articulation of her arms; her right arm can swing left and right at the elbow and her left arm can rotate to reposition her hand.
Rafale has a swappable chestplate if you want to show off her boobs, which are sizeable indeed. Switching them out is straightforward; after popping off her head and removing her shoulder armor, the chest pieces are plug and play. Her other accessory is her bardiche, which was quite annoying to get into her grasp. I sort of rolled the handle of the weapon under her fingers starting from her pinky and moving up. It would've been more convenient if her weapon's shaft was detachable like the vast majority of weapon-wielding figures I own.
Oh, a note on her extra naked chestplate; rather than hiding it from view, it's packed right in the front of the window box for everyone to see. That doesn't bother me much but I wonder if certain fascist elements working for customs departments around the world might object.
The paintwork is rather shabby. Close up, the biggest problem is her eyes; her pupils aren't centered, which gives the disturbing impression that she's looking in two directions at once. She also has some strange pinkish eyeliner which doesn't look too untoward from a distance but gives her a clownish appearance when examined closely. Her armor is shiny but nobody is going to believe that it's metallic.
Then again, I didn't buy this figure for its technical excellence; I bought it because it's big and I've got a thing for fighter girls in thong underwear. Sculpted in 1/6 scale, she's about 27.5 centimeters tall and I note that with an asterisk because she's leaning to her left quite badly. I don't remember if she's supposed to be this way or not; I've had her out of her box for a month but I barely looked at her during that time. I guess I'll have to give her the hairdryer treatment some time soon.
So what we have here is a figure that's sort of boring, not painted particularly well, and of somewhat limited appeal. Since I do fall in that group of people that like this sort of thing, I'm fairly happy with this figure, particularly since it wasn't too expensive for its size. If you like the bikini armor look, this might be a figure that would interest you but then again, you might be better off just getting a Queen's Blade figure instead.
There's another version of Rafale in different colors, but I didn't like it quite as much as this one.
I'm thinking that maybe a black background wasn't the best choice for this figure. One of these days, I'll learn how to shoot a picture on something other than black or white.