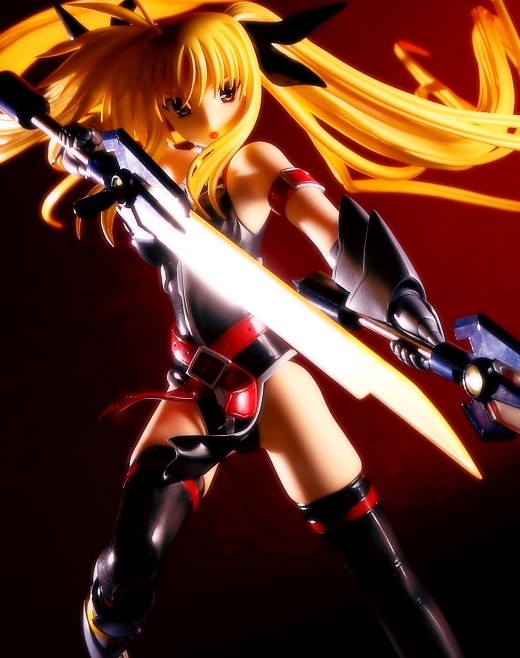 Now it's time for a tale told by an idiot who proved his idiocy not just once but twice: first by passing over this figure, and then, having changed his mind months later, paying twice its list price for it. It ain't no thang to me, though, as I've come to terms with my limited mental faculties and I'm not about to let something like common sense get in the way of me owning this figure. I'm a year late and quite a bit more than a dollar short, but all that matters now is that Fate is in my collection.

This version of Fate T. Harlaown comes courtesy of Alter in 1/7 scale. Released back in November, she sold out very quickly and as I wasn't entirely thrilled with her face, I didn't have any regrets about skipping her. Fast forward to a couple weeks ago: I received Vivio and decided she needed a partner to run with. I have Volks's Fate but the scale definitely wasn't going to work. I needed to get one of Alter's figures; fortunately for me, they have a lot to choose from. Nanoha was the obvious choice, but she's a bit overdressed to fit in my collection.
At any rate, I'd already accepted that I was going to have to pay an exorbitant amount of money for Vivio's running mate and that made the selection pretty easy. Alter's StrikerS figures all look pretty good, but I think Fate was the best out of all of them, aside from Vivio. A quick visit to eBay, a check on my bank balance, a very brief period of soul-searching, and she was mine.
I usually list a figure's height but with Fate, perhaps it'd be more appropriate to start with her length. With her enormous sword and twintails streaming out behind her, she measures an incredible 60 centimeters long, depending on how far out her sword is extended. Like Vivio, she's also on the high end of 1/7 scale, measuring about 37 centimeters tall to the highest point of her hair, including her metal standoffs.
My heart sank a bit when I unboxed her and saw all the plastic wrap Fate's parts were packed in. I thought that it'd take all night to get her set up and as my collection grows, I find that I don't have much desire to fuss around with assembling PVC figures. Fortunately, Fate wasn't very difficult to put together; one of her twintails needs to be dropped into her head, her metal rods need to be inserted into her feet, and then all that's left is her choice of weapons.
Fate is one of the most impressive figures I've seen, and a major contributor to her presence is her majestic hair. It's not hard to believe that no one but Alter could pull off something this crazy, and true to form they've done a marvelous job sculpting her tresses. Sinuous and slender, they almost look like prehensile tentacles, ready to swarm out and wrap up a victim in a coiled embrace of love, sliding deeply into …
Ahem. Her hair does have the drawback of badly restricting her display options; basically, the only way she's going to fit on a typical shelf is sideways, and she's still going to demand a huge amount of room. But nobody who owns a Ferrari is going to complain about having to buy premium gas, and nobody who owns Fate is going to complain about having to give her additional space.
I initially passed her over due to reservations regarding her facial sculpt. I thought her nose looked overly long, and I thought that her O-shaped mouth looked odd. Looking at her in person, her nose looks fine when viewed from below, but looks long when viewed from above. I'm not sure why that is. I haven't changed my mind on her mouth, though. Look at a figure like Good Smile Company's upcoming Saber; her mouth is fixed in a ferocious snarl, letting you know that she really does want to kill whoever she's about to crash that sword onto. I'm not so sure what emotion Fate is evincing here; the circular shape looks a bit like she's getting ready to fellate someone.
You know, I'm starting to change my mind, and all of a sudden, her face is looking a lot more attractive to me for some reason. Imagine that.
She comes with two weapons, Bardiche in either Zanber form or the dual-blade Riot Zanber form. In Zanber form, her sword is enormous, easily one of the largest weapons of any figure I own, including 1/4 scale figures. The figure comes with a supplemental plastic stand to support it; it'd have been nice if they had added a bit more mass to its base because I found it to easily slip out under Bardiche's weight. Her Riot Zanber blades come with an optional energy string which looks a bit cheesy, as all plastic renditions of sparkly, flashy special effects do. Both sets of weapons have metal handles which should negate the risk of paint transfer when sliding her swords into her grasp.
Suspended in an aerial fighting stance, her pose is truly amazing. The way the front flap of her dress and belts lift upwards strongly adds to the impression that she's hovering, and also provides a very welcome element of fanservice. Fate's arms are angled downwards with one cocked back, reminiscent of the badass gun kata poses in the film Equilibrium and unambiguously delivering the message that you do not want none of her.
Speaking of fanservice, as far as I know, Fate is the only character in the Nanoha series to take great pride in showing off her backside. While it's not as exposed here as it was in her youth, it still looks mighty fine. Ten out of ten on this aspect of the sculpt.
Compounding the idiocy that I mentioned earlier is Fate's impending re-release early next year, which I learned of the day I got her in the mail. That's the way love and life go, I guess, and I might've bought her anyway even if I knew that Alter was planning a second production run. I still have some quibbles with her face, but the sculpt's overall quality and energy shine so brightly that they overpower my reservations. Alter's figures are the most ambitious in the business, and Fate is a sterling example of their craftsmanship.
This review is obviously very late to the game, and there are about a billion other reviews of Fate out there. Check out WAWAWA wasuremono, Exelica Meteor, The Inferno Project, and foo-bar-baz for more reviews and pictures.
If anyone wants a wallpaper of Fate, the next picture is in 1920×1200 resolution.