Sometimes I buy things for the most gossamer of reasons. Example: one day, I loaded up Tsuki-board and the random header generator rolled up this picture. I thought to myself, "Fate has a nice ass." Then I looked again and thought to myself, "Fate has a nice rack." And really, do I need any more reasons to buy a figure? So I hit up eBay, type in the magic words, get one listing back from a seller in Japan with a buyout price. I log in, click the buyout button, bam, package gets mailed the next day, bam, mailman drops her off a couple days later, bam, done. Isn't the internet awesome?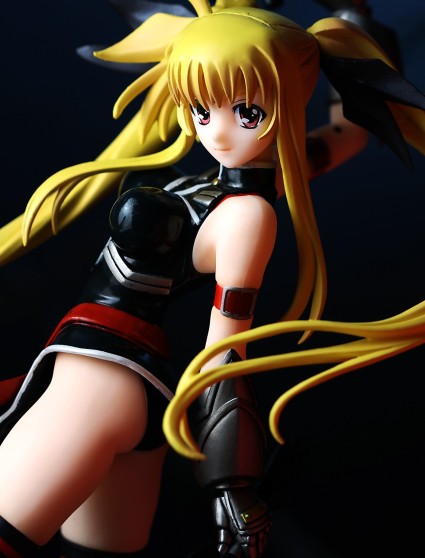 This version of Fate is from the anime Magical Girl Lyrical Nanoha StrikerS and there's no point to me writing up a bio since almost everybody on the planet knows who she is and being that I haven't watched any of the series, I do not. If Fate isn't quite up there in the pantheon with Rei and Miku and Yoko, she's dang close, and the only reason she might not be as exalted is because she technically takes second billing to the show's titular character.
This version of Fate is manufactured by Volks as part of their Moekore lineup. Ostensibly sculpted in 1/7 scale, she's about 21 centimeters tall to the top of her head, which puts her closer to 1/8 scale, but by now we all know that figure companies don't know how to use a calculator.
She's got a bevy of accessories, including three left hands, one big sword, two small swords, an extra face, and a spare arm. Her face is swapped by decapitating her, pulling off her bangs, and then exchanging the face.
She's got a dynamic pose that nails the trifecta; you can see her face, breasts, and ass all at once. It's a solid pose that makes her look strong – or as strong as one can look with one's rear hanging out, I suppose.
My experience with Volks products is that while their garage kits are some of the best figures around, they don't know jack about quality control with respect to their PVC figures, and unfortunately Fate is no exception. The paintwork is quite rough, with minimal shading on her skin, and there are seam lines everywhere, most obviously on her hair, left arm, and right leg. Peculiarly, her right arm – the one that's meant to hold the smaller sword, uhh, whatever it's called – has a big black dot right at her elbow. Normally I'd be quite upset about this except the dot is so large and round that I'm guessing it's supposed to be there. Being that I haven't watched the show, I wouldn't know, but her other right arm doesn't have it, so I don't have a clue what the hell it's supposed to be.
She also falls apart quite easily; I had a difficult time keeping her head together while photographing her, and her left hands fit so loosely that they're prone to falling out when the figure is slightly nudged. Try to put the hand in, doink. Rotate the figure while shooting pictures, doink. Swap the right arm, doink. For me, the hardest part of photographing a figure is picking out a setting, but in this case, it was keeping Fate in one piece long enough to get my shots.
That said, the operative reasons that I purchased Fate are still valid, and while her breasts are strangely hemispherical, she still looks pretty good to me. From a distance, anyway. She's not nearly worth the money I spent to pick her up, but if one wants a Fate Harlaown figure, one is going to have to accept that a high price is going to have to be paid.
Speaking of Fate Harlaown … what the heck is a Harlaown anyway? A lot of the girls in the Nanoha series are named after automobiles and Fate, of course, is named after the Ferrari Testarossa, the baddest car of the 80s. That's right, badder than Rodimus Prime, badder than KITT, badder than the DeLorean. The Testarossa is the only thing I remember from Miami Vice – besides the title theme, that is – and was also the main car of Sega's classic arcade game Outrun. Along with the Space Shuttle and Grumman F-14, the Testarossa was one of the iconic machines of that decade, and it was the perfect name for Fate. So why'd they change her name? Yes, she had her differences with her mother, who was a bit distant but made up for it with a killer backhand, but if they were going to change her name, surely the writers could've come up with something better than Harlaown. If it were up to me, I'd pick something like "Diablo." It's probably a good thing that nobody consulted me.

Fig. 1. Examples of classic 1980s machines.
And while I'm at it, what's up with Fate's bottom? When she was a little kid, she wore a charming bodysuit with a thong back – sort of racy, but it does distinguish her from all the other loli superheroes out there. But when she grew up, she covered up. What the heck? You're telling me that after she hit puberty, she found her modesty? C'mon now.

Fig. 2. Comparative backside coverage.
And this wasn't just an example of Alter's sculptors being perverts; this really did show up in the anime, and I have proof.
So there! Hopefully Alter doesn't chump out on their next Fate figure.

Fig. 3. Fate showing Nanoha who calls the shots.
Besides her appearances in the three television series and the movie, Fate has also starred in numerous doujinshi. I picked this one up recently from Mandarake, and it's pretty cool. I'm not completely certain what it's about, but it appears that Fate is having some sort of difference of opinion with Nanoha. Besides that, she also tentacle-rapes her counterpart. It's a great book.
However, my favorite Fate doujinshi is GrindCore, which involves Fate waking up. And then getting tentacle-raped. By Nanoha. As one might imagine, it's also a great book. In addition, the art was done by Akito Tamiya, who also did the artwork for the h-game Zanjibaru, which has one of my favorite maggot-birthing scenes outside of Inyouchuu.

Fig. 4. Vivio showing Nanoha who calls the shots.
While I'm talking about Magical Girl Lyrical Nanoha figures, Alter's upcoming Vivio figure is looking great. I'm not entirely certain who Vivio is or why she's a little kid through much of StrikerS, but she sure did fill out nicely, didn't she?
I'm guessing she doesn't do anything like this in the TV show. If she does, though, I'm putting that series at the top of my watch list. I mean, right under Seikon no Qwaser, the greatest anime of all time.
More reviews of Volks's Fate are up at WAWAWA Wasuremono and Shadonia. I'm sure there's a bunch more out there but given how random this writeup is, I don't know that they want me linking to them. Heck, this post is pretty random even by my standards.