I've reviewed a couple of Keumaya figures here and I think I've converted a few people on the interwebs into Keumaya fans. I've been looking forward to Hyper Nurse Victory Yuno for a while and now that she is here I am happy to spread the good word about Keumaya once more.

Originally nicknamed Chou Kyonyuu-chan – or Hyper Boobs-chan – Yuno was first offered for preorder by Toranoana, I believe, last December. I don't recall that she was available at Comiket 77, although her green-haired clone Hyper Nurse Milky Way Hotaru-chan and Hyper Nurse Commander Erica-chan were.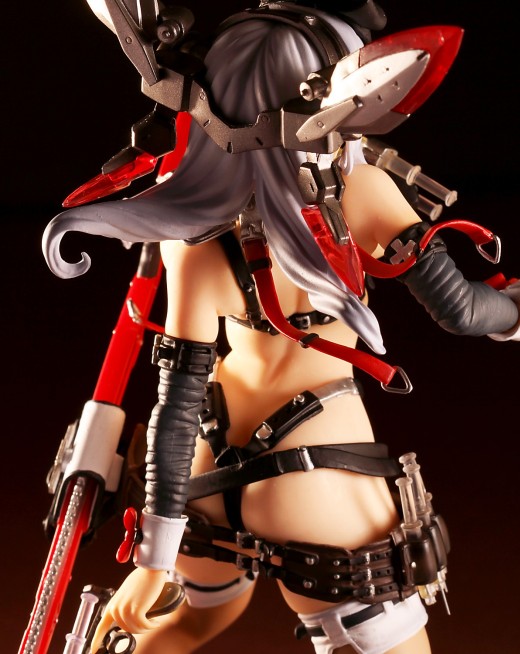 A couple weeks back, I noticed I got some hits from Keumaya's Twitter page, and I was curious as to what was up with that. First, I learned that it's really freaking annoying how Twitter abbreviates URLs (or encourages shortened URLs). Second, I found that his message amounted to a succinct complaint that I had assembled Kotone-chan incorrectly! What the hell, mang?? It's no surprise that I put together her wrong, the instructions are scribbled in hieroglyphs and moonrunes! Do I look like I can read the Japanese?
… On second thought, don't answer that.
Like Kotone-chan, Yuno came in a small box with a doujinshi packed separately. An instruction sheet is provided although it seemed easier to put Yuno together than Kotone-chan. As I removed her parts from the box, I noticed this problem here:

AHHHHHHHHHHHHHHHHHH
Damn. If this blemish were smaller, I could have pretended that Yuno was taking fashion pointers from Cindy Crawford, but it looked really bad, as large as it is. Scrubbing with rubbing alcohol didn't take it off, and I wasn't about to try a file or sandpaper. Damn. I had been anticipating Yuno for some time so this really sucked. However, I didn't want to leave it as it was, and I'm of the opinion that when life gives you lemons, you paint that shit gold, so I knew what I had to do. Being both enthusiastic and none too bright, I whipped out my paint bottles and started mixing.
Now, I have almost no artistic talent and I didn't really know what I was doing. Nor did I have any idea how difficult this would be, but I figured it couldn't be that tough, being that it's not that big a mark. You know how hard it is to match a figure's existing skin tone? Real goddamn hard, let me tell you. Just getting the colors close to a ballpark match is difficult enough, but getting the brightness matched is even harder. Too light and the figure looks like it has a skin disorder, too dark and it looks like a burn, or maybe gangrene. Also, I needed to thin the paint so that it didn't form an obvious protruding clump, but that made the paint translucent so that the black mark was still visible.
After a ton of trial and error, I think I got something close enough for government work. I dunno. It's not easy to notice under normal lighting conditions, which is good enough for me.
Yuno is sculpted in 1/6 scale and stands about 23 centimeters tall to the top of her head, although her futuristic bunny ears will add a couple more centimeters to her overall height, depending on how you position them. Yuno was sculpted by Vispo, and presumably she will be the last figure offered by the partnership between the two circles.
She comes with this instruction sheet, and anyone who's put together Keumaya's other figures won't have too much difficulty assembling Yuno, as she has the same general leg and torso design as their other figures. Her two belts are removable, as is her chest harness. Amusingly, her harness is partially held to her body by a socket into which her right nipple plugs.
She comes with several weapons – a big handsaw which slides into her belt sheath, a small syringe gun, and another saw that slides into her right hand. I misplaced that second saw; doubtless it will turn up at some point, somewhere here, but for now I don't have it so it doesn't show up in the pictures. You can check out what it looks like at Keumaya's figure page.
She comes with a variety of syringes which slot into her belt and harness. The tips are sharp so it's best to be careful when handling them.
There are a lot of things I love about this figure, but her smile is my favorite aspect, I think. She's flashing a toothy grin that is equally sly and mischievous and completely adorable. Bowties on her boots and hair accent her cuteness and provide a playful complement to her techno nurse look.
Neither her charming smile nor her feminine bowties can take the edge off of her raunchiness, however. Fully clothed, everything is covered up, but just barely, being that her outfit isn't much more than some straps. As mentioned, her harness and belts are removable, as is her thong, though I did not try to remove the latter. Her breasts appear to be hollow and are squishable, as seems appropriate for the most buxom of Keumaya's nurse girls.
Yuno's bunny ears and eyepieces can be repositioned if you're looking for a particular effect.
The figure comes with this doujinshi, which also features Hotaru-chan. It depicts Yuno and Hotaru-chan being accosted by some faceless thugs who do what faceless thugs do in these sorts of books. It's great stuff. Wish I could understand the words, though.
And the figure comes with these pubic hair decals or stickers for Yuno, Hotaru-chan, the goat daughters, and more. I'm not planning on using them but if you like your girls bright-eyed and bushy, Keumaya's got you covered.
I think Yuno is my favorite of Keumaya's figures. She's both cute and sexy, sculpted in a good size, and – aside from the black line on her face – of high technical quality. I love her character design and hope that this isn't the end of Keumaya's figure lineup, as it's far too good to end here.