It's been a while since we've taken a look at the figures I'm contemplating ordering so let's do that now. First though, a few notes: first, I've historically done a Five Favorite Figures of the Year at the end of the year (or early on in the following year) but I won't be doing one for 2020 because something like half the figures I bought are either trapped in Japan or are in the mail or on cargo ships and are hopefully not lost. If anyone's curious, I think the figures that would have made that list include Native's Fairy Queen Elaine and Chloe (though I've actually not heard great things about Chloe, which is unfortunate and disconcerting). FREEing's Rindo Kobayashi might have also made the list, though I feel a little reluctant to laud any of their bunnygirl figures too highly since many of them kinda look the same after a while.
Also, I hope 2020 wasn't too terrible a year for anyone reading this though I expect that for many, it was a tough year to get through. For me, I'm a little sorry to say that 2020 was actually a really good year; I'm now in a good position to achieve a lot of the goals I dreamed of completing five or six years ago (and no, I didn't get in on any of the recent GameStop madness). It feels heartless for me to say that since so many people lost so much but I'm hoping that better times are close at hand for all of us.

May 2021
Kallen Kouzuki from Code Geass
I have to admit I'm not that familiar with the Code Geass franchise but it seems like it's going through some sort of rebirth, at least with respect to figures, since we've seen a bunch of FREEing bunnygirls and now we're getting some MegaHouse figures. I'm not so sure about the FREEing figures aside from C.C., which I do own but I'm not sure if I'll review since photographing figures that are crouching on all fours is a colossal pain, but I do like the pilot suits on the MegaHouse figures, and Kallen is no exception. This figure was a little hard to find since I think Amiami closed down their preorders a while back but I ordered her from BBTS for around the price I'd expect to pay at Amiami plus EMS shipping.
June 2021
Fifth Villager Kukuru from Elf Village
I own a couple of the elves from Vertex's Elf Village series; I'm kinda ambivalent about the first, though I suppose she looks alright from a distance. I think Kukuru looks pretty good though, good enough for me to buy. I usually buy my figures from Hobby Search but Amiami has a deluxe version with an extra head; I'm not sure if the additional price is worth it but I'm thinking about it.
Muramasa Nisei from Full Metal Daemon: Muramasa
There have been a bunch of figures from Nitroplus's eroge Full Metal Daemon: Muramasa but I think I actually only one figure from the visual novel and I've never reviewed it. I'm not sure if I own any figures from Wing, either; I don't think I do and if I do, I don't remember what they might be, which means it will be interesting for me to see what sort of quality they feature.
Rika Shiramine from the Art of Coffee Kizoku
I'm a big fan of Coffee Kizoku's artwork and I'm glad to see that his original character Rika Shiramine is getting a figure courtesy of Union Creative. The combination of gym uniform and leotard looks very sexy and her pose shows off the distinctiveness of her outfit to good effect.
July 2021
Reisalin Stout from Atelier Ryza 2
I own the first Ryza figure that Wonderful Works produced (and I probably should get around to photographing it already), so I might as well buy this one, too. I don't think I will actually ever play the games that she comes from, but I do appreciate the character design nonetheless.
August 2021
Ithnani from the Melon Books Hermaphrodite Tapestry
It's another futa girl from the artist Ban! and I'm glad that this figure has a female option since that's not really my thing. I'm pretty sure I'm going to order this figure as I really like Rocket Boy's work.
Kelly from the Art of Saitom
FREEing's catalog treads close to BINDing's domain with this intriguing figure, which invites discussion as to how much is actually visible. I'm expecting that any explicit bits will be cleverly hidden but regardless, Kelly looks superb.
September 2021
Eureka from the Art of Tsunako
I'm a little more equivocal on this bunnygirl figure from Tsunako's artwork. She's really cute but lacking somewhat with respect to the overt lewdness when compared to the Kelly figure. Nonetheless, I think I'm likely to order this figure, unless another bunnygirl figure catches my fancy, and given how many FREEing and BINDing are pumping out, I suppose that's not an unlikely event.
October 2021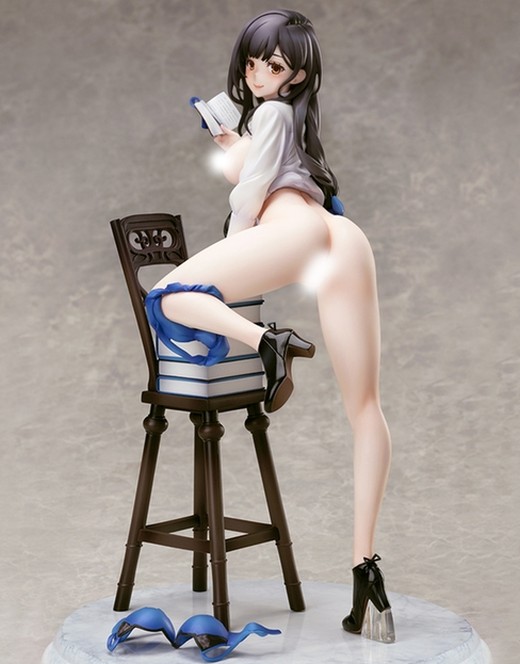 The Literary Type from the Art of Akemi Mikoto
I think that this figure needs absolutely no explanation as to why I'm ordering it, and why I expect that it's going to be one of the best figures of this year.
December 2021
Enterprise from Azur Lane
I don't play much Azur Lane anymore but I'm still very fond of the characters, particularly the Eagle Union characters, being an unabashed supporter of the United States (despite me not actually being born in the US). I'm happy to see that Enterprise is getting a figure, being that she's one of the most prominent characters in the game. I actually would have preferred to see her in her normal uniform, but this is good, too.