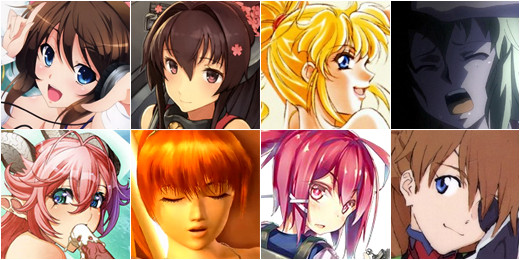 The hope was to get a figure post up before the weekend but since paint and plaster take way too long to dry, we'll talk about some upcoming figures that I'm thinking about ordering instead. We've got a few figures from the big new sexy thing – Kantai Collection, of course – and a few from some storied, old-school series. The great thing is that most of these figures are pretty big; I think there's only one 1/8 scale figure on this list, actually. Let's take a look at them.

October
Kasumi from Dead or Alive 5
I was surprised to see this figure, and I was even more surprised to learn that Kasumi is being produced by Griffon Enterprises. I was more than a bit dismayed as well, I have to admit, but even so, she still looks like a really nice figure. I guess I kinda prefer the older, anime-style faces rather than the more realistic faces introduced in DOA5, but Kasumi still looks nice. And she's 1/6 scale. And she's being fast-tracked, with her release date set for just two months from now. I'm guardedly optimistic about this figure and I'd even say I'm looking forward to receiving it, even if I can't entirely set aside my misgivings.
December
Asmodeus from the 7 Deadly Sins
It appears that the 7 Deadly Sins girls are getting figures that present them in sexy, humorous, or otherwise out-of-character (at least, with respect to them being named after demons and other entities of evil) costumes. Asmodeus is being squeezed into a bunnygirl outfit, which I guess is not entirely out-of-character since she's supposed to embody the emotion of lust or somesuch. It still looks a little silly, but that's fairly typical for Hobby Japan characters. She seems to have lost a few inches off her bustline, too. I'm kinda thinking about this one; I guess maybe I should open up Asmodeus's first figure (which I have stashed in my closet somewhere) and see how much I like it. Like that earlier figure, this second Asmodeus is a Hobby Japan exclusive and thus will necessitate going through a proxy service or a specialty retailer to purchase, but neither of those methods is all that difficult.
Katanako from Samurai 2020
The first Katanako was quite well-received, which surprises me a bit since she's not particularly distinctive – schoolgirls in school uniforms are hardly scarce, even ones wielding two-meter long (scaled down, anyway) killing swords – and she had unusual features and an elongated physique that some collectors didn't care for. However, something about her must be appealing because her aftermarket prices have exploded since her release. I like the original figure a lot, but I kinda like this one better. Maybe it's because she's blonde, or maybe it's because her colors are a little bolder and a little more unusual. Thinking about it more and more, I really like her new colors. Maybe I should see if I can hock the old one while it still has some value and get this one instead.
January
Satellizer L. Bridget from Freezing Vibration
This is obviously a great figure, and the addition of Elizabeth will only make it better. The only thing I would have liked to have seen changed is her outfit; she's wearing the same outfit as she did in the first Sexy Version figure. Given her pose and her portrayal in the series, something like a bondage outfit – like the one she wore on her official dakimakura cover – would have been nice. Oh well; Satellizer and Elizabeth are still instant preorders for me.
February
Excellen Browning from Super Robot Wars
Ah, the Japanese portrayal of an American girl – we've got most of it here. Blonde hair? Check. Big-ass boobs? Check. Narrow waist and meaty hips and legs? Check. An assertive and extroverted personality? You can't really tell from this figure, but all that is there, too. She's just missing a cowboy hat and a cheeseburger. And perhaps a football, being that American-rules football is perhaps the most popular religion in the United States. At any rate, Excellen looks fantastic. She's also 1/6 scale, which makes her even better. I'm definitely looking forward to this figure. (As a side note, I really appreciate how Alphamax provides a ton of promo shots with each of their figures. I wish companies like Max Factory and FREEing would take notice of that.)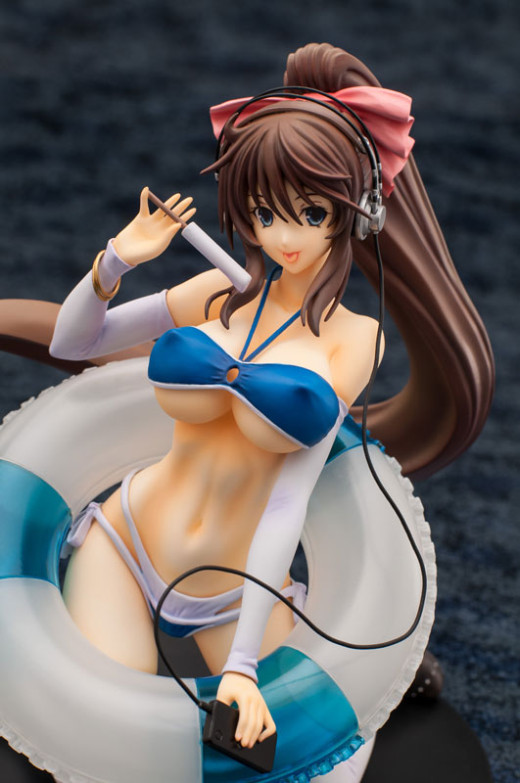 Nichika Towano from GWAVE 2012 2nd Memories
Daiki Kougyou occasionally makes figures of some really obscure characters. At first I thought that this character might be from an old-school visual novel but she's actually a cover girl of a compilation CD of eroge themes, I think (which I'm now interested in, since there have been a few eroge and H-anime songs that I've really liked). I really like this figure, too, and I'm pretty sure I'm going to order it. I'm a little surprised that she's got a fairly conventional look to her; sometimes Daiki Kougyou likes making figures that look a little strange (gangsta lean Saber perhaps being their most well-known example, or at least it was a few years ago).
April
I-168 from Kantai Collection
It's been amusing watching figure companies trip over themselves trying to capitalize on the Kantai Collection figures. We've seen two companies put out nearly the same exact figure of Kongo and now we see the same thing happening with I-168, except FREEing's figure is 1/4 scale, colossally larger than Max Factory's diminutive 1/8 scale rendition. Certainly Max Factory's figure will feature more adept sculpting and finer painting, but big is big; in my estimation, there is no substitute for size. This is the one I'm rolling with. (As a side note, FREEing's I-168 ain't cheap, but her price is relatively typical for a 1/4 scale PVC figure. However, Max Factory's 1/8 scale Kongo is nearly the same price, and I wonder how expensive their I-168 will be.)
Yamato Kai from Kantai Collection
It's also been amusing to observe the price tags affixed to those Kantai Collection figures. I'm not that interested in most of them as I don't like many of them, particularly since they are generally patterned after the official artwork and I generally like the fanart much more. It seems that even GSC and Max Factory realized how exorbitant those prices are because they're rolling out this version of Yamato, titled the "Light Armament" version. I guess that's a nice gesture since the more heavily-armed version is nearly twice the price. I think I prefer this version anyway, as it'll take up less space and I'm really much more interested in the girl rather than the gun turrets.
May
Asuka Langley Shikinami from Neon Genesis Evangelion
Alter's Asuka figure is (hopefully) due to be released soon, but there's another Asuka figure on the horizon. This one is by Amakuni and although it features a different plugsuit design, it has the same sort of pose, one that immediately directs the eye to the backside. A little bit exploitative? Surely, but I'm not going to argue. Like a few of the figures listed above, Asuka is 1/6 scale, which I'm very happy to see. Unfortunately, like Asmodeus, she's a Hobby Japan exclusive but again, she shouldn't be too hard to find for anyone who really wants to buy her.