A number of figures have been announced recently, including many that we saw at last month's Wonder Festival, so let's take a look at some that I'm considering ordering. Most of them are very pricy, which unfortunately seems to be the norm nowadays, and for some reason most of the ones listed here have ship dates crammed into August. Happily for me, I've got some credit card points and a larger-than-expected tax refund to draw from, and that should cushion the checking account shock a bit. Meanwhile, let's get going with the post.

July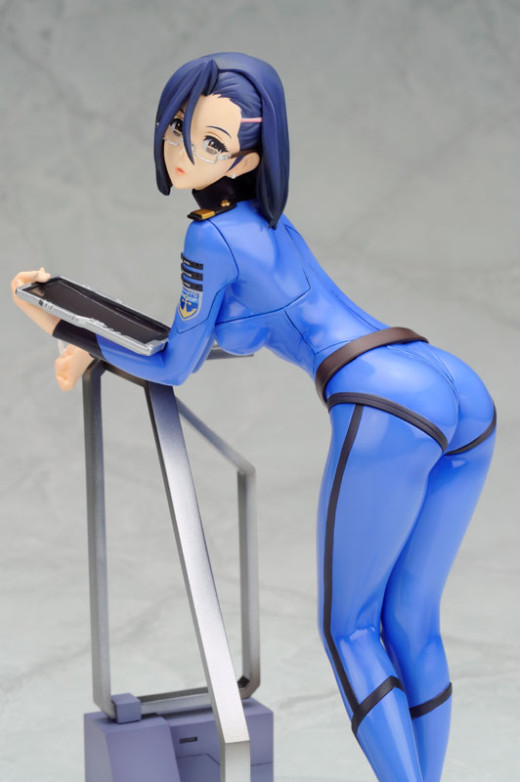 Kaori Nimii from Space Battleship Yamato 2199
The next Yamato 2199 girl is Kaori Nimii. As nice as she looks – and she does look extremely nice, in terms of body, outfit, and pose – I couldn't help having a couple of reservations about reserving her. One, I'm still both annoyed and perplexed at how Yuria Misaki's price crashed, having paid full dollar for her. Two, while I haven't seen Yamato 2199, I know a little bit about Kaori's character, and the superficial bit that I know makes me wonder whether I want her. That's neither entirely fair nor consistent with my prior purchasing practices, but I have no compunction against personal inconsistency. But then, I figure that she is pretty and if I'm not very familiar with a character, that's really the only thing I ought to look for.
August
Mika Jougasaki from Idolmaster
Despite having collected figures for some time now, I don't own any from the Idolmaster series. Or at least, I don't think I do. Most of them haven't really caught my eye but Mika Jougasaki has piqued my interest. Her pose is certainly distinctive, as is her outfit, with her hooker boots being particularly appealing. I've got a couple of reservations about her, though; well, three, if you count the price, but that's true of virtually every figure I'm interested in these days. One, I'm not entirely sure about her grin, which could turn out badly, and two, I don't really have a lot of confidence in Phat Company. Admittedly, I only own one of their figures and it's been three years since that one came out, so perhaps they've gotten better. The pictures at the GSC blog look promising, so I'm leaning towards ordering her.
Rias Gremory from High School DxD
Characters like Tamaki Kousaka and Miku Hatsune are common muses for figure makers but occasionally, a less ubiquitous character suddenly catches fire and gets a bunch of figures all at once. Such was the case with Ignis and Haruka Takamori back in the day, and now it seems it's Rias's turn. She's got several figures coming out this summer but none are larger than FREEing's version which, at the customary 1/4 scale, just barely edges out the A+ version. Her large size is an attractive element in its own right; FREEing's bunnygirls are often not very detailed and their product photos don't always impress, but their appeal becomes very obvious when they are placed next to ordinary-sized 1/8 scale figures. Also, while the bunnygirls don't always feature interesting poses, one can't indict Rias on that score, as her booty-centric pose makes it obvious where your attention is intended to be focused. So, she looks great, and she's got a lot of good things going for her and yet, those same things make me less inclined to buy her; for one, her large size will be difficult to fit in my rapidly-dwindling shelf space, and her showy pose means she's going to take up more space than she otherwise would. As it is, I have to reserve money and space for FREEing's Freezing figures, which feature Satellizer on all fours while Elizabeth sits on her ass. I mean, who would say no to that?
Kotone Kamishiro from Oyako Rankan
Alicesoft's games often feature very attractive character designs. Historically, figure makers have agreed with that assessment, as Sengoku Rance, Beat Blades Haruka, and Daiteikoku have all gotten a number of figures over the years. The next Alicesoft game to get a figure is Kotone from Oyako Rankan. She's the oldest daughter in the game which, from what I've heard, is unfortunately an NTR game. It recently got a single-episode anime adaptation which was kinda nice but could've used a larger animation budget. As with Kaoru, I'm going to try to ignore the source, as the character looks too nice to pass up.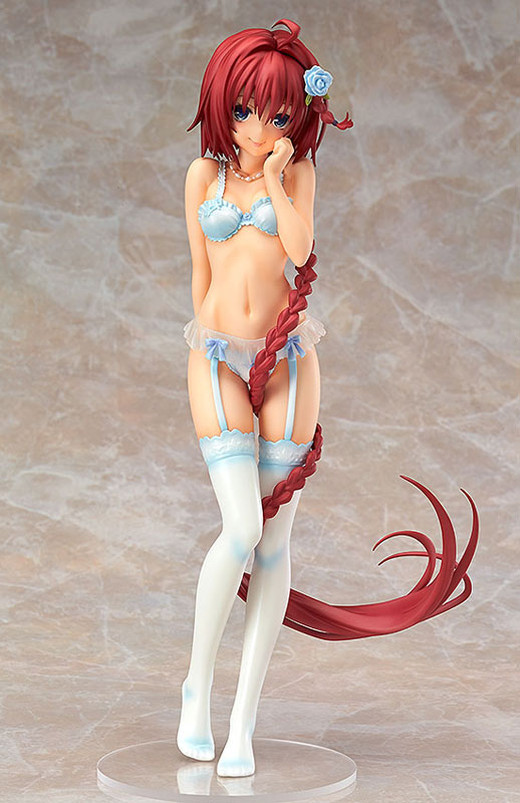 Mea Kurosaki from To Love-Ru Darkness
Max Factory has been on a tear lately, rolling out one great figure after another. They've already released Momo from To Love-Ru (review pending here) and the next figure in the series will be Mea Kurosaki. She's lacking the bridal veil and wedding accessories, which is too bad since I admit I have a liking for that sort of thing, but she still looks fantastic, and being both 1/6 scale and cheaper than most of the figures listed here makes purchasing her an easy call.
Hakufu Sonsaku from Ikki Tousen
As far as I know, this figure first popped up at Wonder Festival last month. When I saw it, I thought it was Panty from Panty & Stocking with Garterbelt, and was surprised to find out that it's actually Hakufu Sonsaku; despite being the nominal main character of Ikki Tousen, she doesn't seem to be nearly as popular as Kanu Unchou or Ryomou Shimei. Further, it's been a while since Ikki Tousen's heyday (and with Tokyopop's demise a few years back, I've lost track of the manga). Hakufu wasn't one of my favorite characters from the series, and I suppose I wasn't alone in that sentiment, as she seemed to get progressively shunted towards the background in both the manga and the anime spinoffs. However, I really like this figure, not just because the character is attractive but also because it's a rather unusual take on Hakufu's design, giving her a more realistic and adult-looking body. She ain't cheap but being that she's 1/6 scale, I think she's worth the price.
Touko from the Native Creators Collection
Native is going back to their roots with Touko; the product page says that this is their third figure based on Tony Taka's art but by my memory it's actually the fourth, following Nozomi Watase, Kotone Ousaka, and Collet. I mentioned earlier that sometimes certain characters get a number of figures all at once; occasionally, the same thing happens with concepts, as is the case with the toilet here. I'm not sure why, but commodes have gotten really popular lately; Kaitendoh's shown off a few figures featuring girls on cans, Daiki Kougyou has released one lately (review pending here), and now Touko will be coming with a throne of her own. She also comes with removable fabric clothing and I really hope PVC figures don't suffer the same staining problems that vinyl dolls do; then again, I don't know that one would buy a figure like this to keep her clothed.
September
Shimakaze from Kantai Collection
Kantai Collection is the big huge sexy thing in anime culture these days, so it's no surprise that the big figure makers are jumping on the bandwagon. The most popular girl, if one goes by fanart counts, seems to be Shimakaze. Unfortunately, I like much of her fanart more than I like this figure's design. Her pose is really nice but I don't like her face that much. I definitely don't like her price either, and I don't think she's worth 12,000 yen; I'll probably pass and take another look if she ends up in the bargain bin like so many other Good Smile Company figures.
February
Satan from the 7 Deadly Sins
The newest figure in the main 7 Deadly Sins lineup is Satan. Astonishingly, this figure is available for order despite not being scheduled to ship until February 2015, and given the casual regard Orchid Seed has shown for deadlines, I expect the figure to slip several months past that. Aside from all that, she does look very nice, and she doesn't have an objectionably-large bust or an overly small head. I think I'll order her, and I'm guessing she may be the last of the main figures I get; I don't think I'm interested in the other girls.