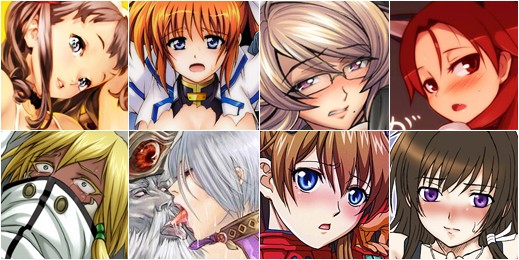 Another month, another list of preorders to think about. Figures are coming out fast and furious and since my Junko pictures came out junk, let's take a look at some of the things I've ordered and am thinking about ordering.

August
Tia Harribel from Bleach
August is a peculiar month in that there are three figures I am interested in from series that I know absolutely nothing about. First up is Tia Harribel from the popular long-running manga Bleach. I know nothing about Bleach but Tia's character design is instantly captivating, with the classic bleached hair/dark skin look and the skull mask. And while I'm not familiar with the series, I do know a bit about Tia, enough to say that I hope to have the opportunity to learn more about her in the future, if you understand my meaning. Anyway, I'm pretty sure I'll be ordering her.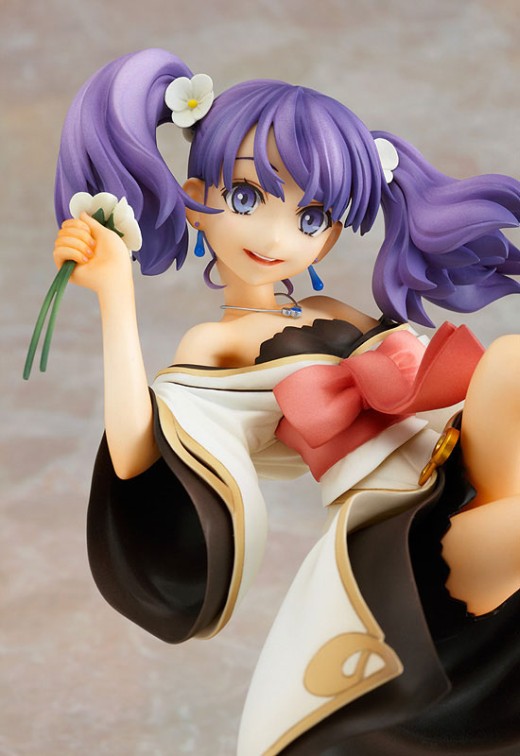 Nessa from Fractale
Good Smile Company offers this figure of Nessa, which has all the look of a classic GSC figure: a petite girl, flowers, a winning expression, and a cute and elegant outfit. What appeals to me the most, however, is her drug-addled look, with her pupils reduced to pinpoints and her mouth stretched in a broad leer. Okay, maybe it's just me who thinks that way, but I can't help it. I'll freely admit that that's a terrible reason to buy a figure, and I'm pretty sure I won't be ordering Nessa, but if she gets a price drop after release, I'll think twice.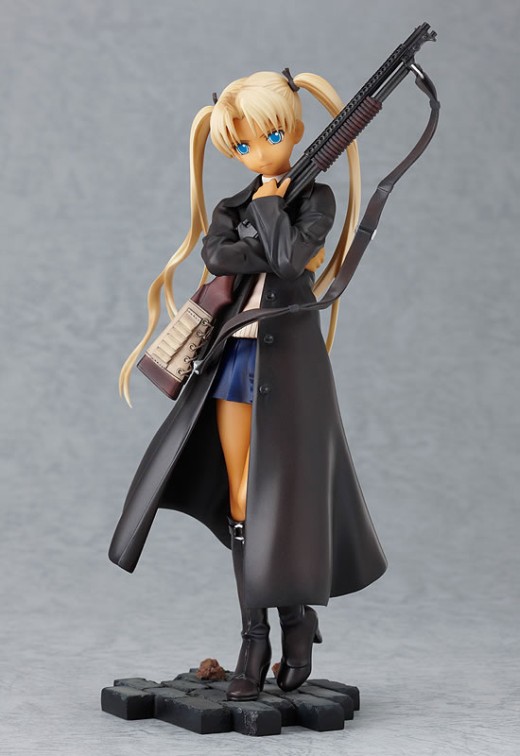 Triela from Gunslinger Girl
Gunslinger Girl seems like the sort of show I ought to have watched, given that I like shows with action girls, but somehow I get the sense that it's not really the kind of action show I would expect. My main reason for not watching it, though, was the blocky and boxy character designs. GSC stays away from that, giving Triela a very appealing sculpt. Her outfit is severe and muted, which directs attention to the sharp hue of her eyes. It's an extremely nice looking figure, quite a bit better-looking than the two Canaan figures they released a while back, and I'm certainly going to preorder this one.
September
Asuka Langley Shikinami from Neon Genesis Evangelion
September is a packed with scheduled releases, and something is going to have to give. While I like Kotobukiya's rendition of Asuka here, there's a good chance it will get squeezed out of the numbers game. I'll admit she looks good, and she's in her original plugsuit, which is a big plus in my eyes. On the other hand, this is yet another figure of her sitting down, and she's smiling again, like most of my other Asuka figures. I'm also curious as to what Max Factory's Asuka will look like, since their Mari figure turned out nicely (check out reviews at Makigumo and Tailgrab). Doubtless she'll be in her test suit, but hopefully it will be distinctive.
Minna-Dietlinde Wilcke from Strike Witches
Alter continues their parade of Strike Witches figure, and while I've preordered Charlotte, I'm not sure I'm going to preorder Minna. If I get a Nazi in my collection, it'll probably be Gertrude, hopefully dual-wielding machine guns. Minna is definitely cute, though, and I like her black panties, but the animal ears are just killing me. As much as I like mecha musume and girls with guns and girls in military uniforms, I really don't like animal ears, and Charlotte and maybe Trude will probably be the only Strike Witches figures I get.
Nanoha Takamachi from Magical Girl Lyrical Nanoha
In the wake of Phantom Minds Fate comes this re-release of the White Devil Magician Girl. She carries a very reasonable price tag and should make for a great shelf partner for Fate. Meronpan's review makes me want this figure, so I might order it, but I dunno; I'm more of a Fate guy than a Nanoha guy. I might just allocate the funds to buy another Fate figure instead. Maybe Cospa's overpriced figure will get a price cut by then.
Siggy from Queen's Blade Rebellion
MegaHouse continues their relentless pissing upon my hopes of ever seeing an Irma figure with this, their second figure of the nun Siggy. There's some consolation in that Siggy looks fantastic, with her thong and pasties, and I'm going to order this figure. The only question is whether I want the white one or the black one; I'm leaning towards the white one now, because it's her main color.
Strength from Black Rock Shooter
The proliferation of BRS figures is as certain a thing as death and taxes and Strength is perhaps the most distinctive one yet. However, while her hands are certainly unique I don't really like them much. When I see her, I'm kinda reminded of Fisto. I dunno. She's pretty cute though, and the hoodie and short dress ensemble is neat. On the other hand, the BRS figures always get big price cuts, so I think I may hold off on Strength.
Sylvia Christel from No More Heroes
Yamato is threatening to eclipse Daiki Kougyou as the most eclectic figure maker in the industry. Sylvia is done by longtime Yamato collaborator REFLECT and is in a mighty 1/5 scale. The problem is that she has a price to match and I'm not familiar at all with No More Heroes, being that I don't own a Wii and will likely never own a Wii. The game is supposed to be hitting the PS3 in the United States, but I don't own a PS3 either. Call this one a maybe, with a slight lean towards no.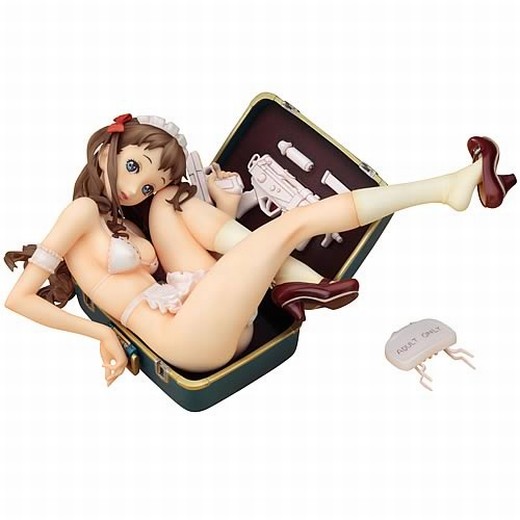 Trunk Girl from Native's Creator Collection
The trunk girl is finally available for preorder after such a long wait. Unfortunately she's another exclusive. Fortunately, a few American retailers have her listed, including Entertainment Earth, which is where I might order her since that's where I got GSC's famous dark elf female figure.
Urayukihime from Shining Hearts
No preorder list is complete without another character from the Shining series, and Kotobukiya has listed this figure, which looks suspiciously like Blanc Neige. Her outfit appears to be removable, given the large seams on her skirt and down her back. I dunno though, I'm pretty tired of seeing Tony Taka-designed figures. I love his art but I don't think I need many more Shining figures, unless they go back to Shining Force and Shining the Holy Ark.
Yui Takamura from Muv-Luv Alternative – Total Eclipse
Another Total Eclipse character gets a figure, much to my delight. Unfortunately, it doesn't squeeze the lieutenant into her piloting suit. Instead, it's based off of artwork by Sou Miyata. Oh well, beggars can't be choosers, so this one is preordered.
October
Ivy Valentine from Soul Calibur 4
I've whined that not enough fighter girls get figures but this year has been relatively decent, with two of my favorite fighting girls – Mai Shiranui and Dizzy – getting exceptional figures. Isabella Valentine will be getting a figure as well, this one based on her Queen's Gate appearance. Ivy is also one of my favorite fighting girls, though mostly for her appearance as I mainly play as Seung Mina in Soul Calibur. Unfortunately, this is yet another exclusive, but I've already paid for it so I guess I don't have to worry about it. There's a cute wallpaper of moe Ivy up on the Hobby Japan website, if anybody is interested.
November
Nao Aizawa from Comic Aun
Orchid Seed follows up their Lala Poplip Pipiruno Pipiru Paparemmo figure with Nao Aizawa, a girl with a much shorter name and slightly more clothing. I'm liking the way she looks, though the way her breasts are squished together looks a bit odd. Not too mention very uncomfortable. Oh well, she doesn't seem to be feeling any discomfort, judging by her smile. I'm pretty sure I'll order this one, though I'd like to see more preview pictures before I make up my mind.