Having become intrigued by Keumaya's figure lineup, I put in a bid for Violet on Yahoo! Japan Auctions only to lose out in the last hour. Undaunted, I run a search on eBay and Violet shows up the next day. After a very brief moment of hesitation, I punch in a bid value and put the mouse cursor over "Place Bid" and then …
COMMON SENSE: Hey man.
ME: Oh for the love of basketball, not you again. Don't you got anything better to do?
CS: This is my job man, I'm here to stop you from doing stupid things. And I had this feeling that … wait, what's that up on the monitor?
ME: This? This is Zanjibaru.
CS: No, not your porn game. Wait, that's eBay! You're buying another perverted girly figure again, aren't you?!
ME: … Mebbe.

CS: Another one?! Do you even know how much money you've wasted on these things?
ME: Uhh, well, Tsuki-board says my collection cost Â¥827,853, although I got some figures on sale and of course the exchange rate doesn't stay the same and –
CS: Dude, it's a helluva lot of money however you slice it and – holy jeebus, what the hell is wrong with her chest?
ME: Who, Kyoko? Well, in this game she can get implanted with eggs by this bug thing and when they hatch they need to feed so they crawl out of her and up her breasts and –
CS: No, I'm not talking about your freaky-ass porno game, that's something we need to talk about later. I mean this figure, those breasts … I mean, dude, what the hell, man?
ME: Uhh, I guess they're sorta big?
CS: Sorta big?
ME: Uhh, okay, yeah, they're maybe a little bit bigger than I like but big girls need love too. I'm not gonna hate on tits, okay? It's not in our nature. I like tits.
CS: They're disgusting is what they are.
ME: Hey, I just said that I'd like 'em a little bit smaller. I like something that's like a handful, you know? Something you can grab onto.
CS: Yeah, that's about the right size and – aww, dammit, now look, you got me talking like a pervert like you.
ME: Hey, you're the one who brought up breastages, not me.
CS: Alright, forget the breasts. Dude, look at the price tag on this auction.
ME: I see it.
CS: Do you think you can afford that?
ME: Sure, we paid more than this for those Spheres doujins, remember?
CS: I'm trying to forget that. That store was run by a bunch of pricks.
ME: They were. I think they're out of business now, if that makes us feel any better.
CS: It does. But look, you could get your car fixed for this money. You know what sorry-ass shape your car is in?
ME: It's pretty bad.
CS: When was the last time you got your tires rotated?
ME: Uhh … back in school I guess. That was what, like four years ago?
CS: Do you know the last time you got an alignment done?
ME: Alignment? Uhh, isn't that something from like Baldur's Gate?
CS: You need to get the struts checked, you need to get all those scrapes buffed out of your back bumper, and you should re-do all the wiring for your stereo. That was a sorry-ass job you did on that, by the way. How the hell do you screw up the wiring that badly when you did EE?
ME: Hey, do you think they teach car installs in circuits lab?
CS: Maybe not, but that's another thing you should fix. You could at least replace the rear speakers with working ones.
ME: I'll just solder some wires to the posts and hope it works. You can fix anything by soldering.
CS: In fact, instead of blowing all this money on dirty girly figures, you could be a good way towards saving for a new car. Instead of the hundred-horsepower gimpmobile you're driving now, you could rock a G35 or a 3-series like everyone else here.
ME: Every asshole here, you mean. Do I look like an asshole to you?
CS: What? What the hell are –
ME: I don't think you have my best interests at heart. In fact, I – ooh, hey, this figure comes with a comic book with pictures of naked girls in it! I think I'll buy this for sure.
CS: Dude, listen, don't –
ME: You talk too much. I'm gonna be the decider here, I decide what's best.
CS: Ahh, you idiot!
*click*
Okay, it's grown-up time now so I suppose I ought to say a few words about the figure. Violet was one of the figures that Circle Keumaya produced in late 2007 for Comiket 73 and seems to be a variant of Axia Black and Red. Violet was also produced in a pink version that can be seen on that page. A note on Heisei Democracy indicates that Violet was inspired by a character from the light novel Odin no Yari.
The most obvious aspect of this figure is her bust size. She's quite stacked, and when I first saw this figure on Heisei Democracy, I lamented this design decision because her boobs were way larger than I liked. Over time, my stance on this issue has moderated somewhat so having been given a second chance to buy this figure on eBay (I'm pretty sure that the guy who beat me on Yahoo! Japan was the guy who was selling it on eBay), I couldn't pass it up.
Violet is sculpted in 1/8 scale and is about 19 centimeters tall. She has a small rectangular base that attaches to one foot; she's meant to lean on a larger plastic pillar and cannot stand up on her own. Unfortunately she's still a bit unstable and the pillar is much flimsier than it should be so it's fairly easy to knock her (and the pillar) over. I might see if I can find some weights that I can attach to the inside bottom of the base for a bit more support.
Like Kotone-chan, she's got a ton of accessories, including a pair of alternate hands, several weapons, and a face visor. She can wield a pistol, a knife, or a lance; I didn't take pictures of the knife, but it's the same one that Tsubasa Amano has. One nice touch is that the weapons are made of metal, a bit like the playing pieces in Monopoly games, which gives them a bit of heft.
The face visor attaches to her head by a magnet, but it's very weak and has a maddening way of falling off at the slightest nudge. I much prefer her look with the visor attached so maybe I ought to just glue it to her head. Presumably Axia's head has the same magnet, since I've seen photos of the two figures with the heads swapped.
Like her weapons, her handcuffs are made of metal. They can be slipped over her wrists while her hands are detached, adding a bit of kink to a figure that's already quite edgy.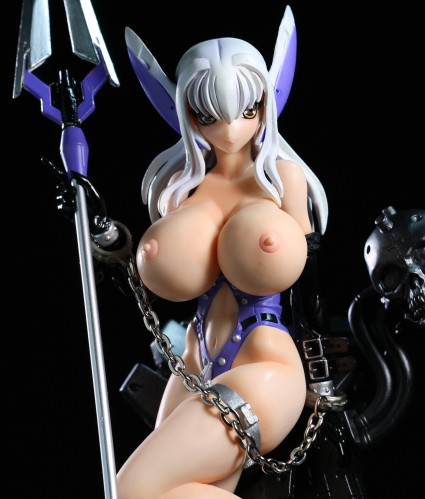 One final accessory is her top, which can be removed to display her chest in all its rounded glory.
Violet is an older figure and the craftsmanship isn't nearly as good as it is with Kotone-chan or any of Keumaya's recent figures. The paintwork is flat across most of the figure, with a glossy sheen given to her skin. This finish is most apparent on her face, which is peculiarly shiny, and the paintwork of her eyes isn't nearly as crisp as what you'd see on a more modern figure. There are very apparent mold lines running down her legs and along the sides of her breasts, and her nipples aren't particularly detailed.
Despite her questionable construction, I like the sculpt a lot. She's got something of a futuristic valkyrie design which I love, other than her very large breasts. The kinky aspects like the handcuffs and the metal garter and the thong leotard are also very appealing. In retrospect, I'll concede that her quality probably did not justify the price tag, but given her rarity, I don't feel too badly about the expenditure.
I like high-tech girls in kinky armor. Here she is with KOS-MOS, who looks like she's about to start crying here.
And since I've got no other place to put this, here's a Japanese-language review with more pictures of Violet, and over on Hunting the Elusive, Pireze has a review of Axia Red, who shares the same basic body as Violet.
Violet comes with a short comic book which shows off some of the concept art. I should probably get a new scanner for pictures like these but for now camera shots will have to do.