Here is yet another manifestation of Kanu Unchou, the preeminent poster girl of the Ikkitousen franchise. Some people – probably a lot of people, actually – would say that Kanu is ridiculously overrepresented and that the plastic used to manufacture Kanu figures could be better used elsewhere. Like on that Black Rock Shooter girl, for instance. I wouldn't be among them, myself; I like Kanu, I've liked Kanu since she first appeared in Battle Vixens. I initially thought Hakufu and Kaku Bunwa were going to be the series' main characters, so I'm quite happy that Kanu has received the love that she has. While there are about a billion figures of her out there, this version of Kan-san is a little bit different than the rest.

This particular Kanu is from Yamato and is part of their Project Dynamite lineup. Kanu is sculpted in a giant 1/5 scale by Toshirou of Cobra Kai. He's sculpted several works that have received PVC treatment, such as Mai Shiranui, Saber, Koyori and a few figures derived from Tsukasa Jun's artwork. I find it a bit amusing that his sculpting group takes its name from The Karate Kid, a white man's take on Asian martial arts from the 80s.
At 38 centimeters long from the ends of her hair to the toes of her left foot, Kanu takes up a considerable amount of space. After breaking out the trusty tape measure, I'd guess that she'd stand about 35 centimeters tall if she were standing. Or capable of standing, anyway, being that she's all chained up.
This particular version of Kanu comes from a scene in volume 12 of the manga where Kanu is subdued and captured by some of Sousou Moutoku's goons. She also goes through some mild torture. And gets sexually assaulted. By another girl. As one might imagine, it's a pretty cool scene.
It's my can of sliced pears! I've talked about my can of pears before, and here it is, making its first appearance before the camera. Really, the can of pears deserves its own review, but one review wouldn't be enough to do justice to its majesty; it would need an entire fan site devoted only to it to fully describe just how awesome it is.
The lewdness of this figure is readily apparent, but once you get past that I think its most distinctive element is the face. Toshirou's faces are his trademark, and here you can see – once you get past the bangs – the heavy-lidded eyes and full lips that he favors. It's an exceptionally expressive face and Kanu looks rather like she's crying, which doesn't entirely fit her character as a stoic, imperturbable warrior. Then again, the anime series also dispenses with that depiction by having her act like a lovesick fool when around Ryuubi, so I suppose the liberty can be excused.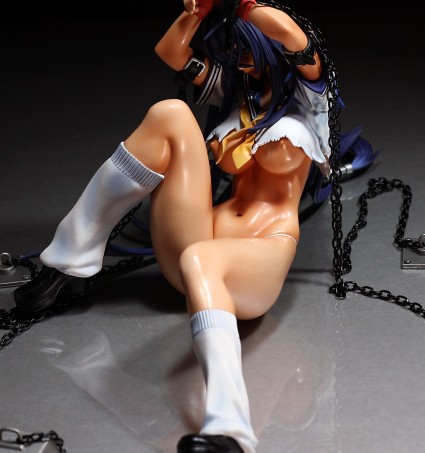 I like the sculpting job quite a bit; Kanu's given a reasonably realistic sculpt, with powerfully-muscled thighs, a well-defined stomach, and flowing tendrils of hair. The paint is more of a mixed bag; her skin has a very glossy appearance, and I'm not certain whether I like it or not. She's got a nipple peeking out from under her shirt, but it's painted the same color as her skin, so it's both difficult to see and rather strange-looking once you do notice it. As for a base, no such thing is included or needed.
Her accessories include her chains, which attach without too much difficulty. The manacles on her wrists are split in half and are held together by small pegs; they separate easily. Additional chains attach to her upper arms via some small D-shaped clips, which are packed in their own little plastic baggy and are easily overlooked when unpacking the figure. I've seen an alternate version of this figure which includes a disembodied arm and hand complete with a staff to poke and prod Kanu while she's down, but no such coolness is included here. I'm a bit disappointed by that; I can think of a bunch of ways that a free-floating arm would enhance my figure reviews.
It's obvious that this figure is going to appeal only to a certain type of figure collector, and that quite a few people are going to be turned off by either the unusual sculpt or the figure's context. I surely don't mind its mature theme – heck, the name of this site is partially inspired by a peculiar anime subgenre – and I like how this Kanu looks. Admittedly, it's not my favorite interpretation of her and I wouldn't have purchased her at full price, but she was on sale at HLJ the other week and for the price I paid I'm pretty happy with this figure.
The only other review I've seen of this Kanu is over on Heisei Democracy, and Shingo's enthusiasm is positively effulgent as he makes no bones about how much he likes it. You can also see the disembodied arm I spoke of in his pictures. Doesn't the backdrop there look a bit like a bathroom?