It's yet another prepainted kit from E2046, but unlike the prior two reviews, this one does not come from an anime. Indeed, Jian Xue may be an original figure; E2046 often sculpts characters from existing properties but I do not think I've seen this character design anywhere else. She looks vaguely reminiscent of something from Dynasty Warriors, or perhaps from Sana Takeda's artwork, but I dunno. I do know that this is an outstanding figure.

Jian Xue is sculpted in 1/6 scale, and for once the manufacturer may be understating her size; at around 26 centimeters tall, this is a very large, impressive figure. She comes swaddled in protective foam and plastic bags. Several of her parts are loose; her left arm, hair, a couple of hair ornaments, and of course her base. Her arm and hair fit to her body very well, but I'm probably going to have to glue her hair ornaments down.
Speaking of the base, E2046 upholds their tradition of giving their ORI figures a unique base by giving her one made from clear plastic. Meant to simulate ocean waves, it looks very nice, giving the figure an additional level of distinctiveness. However, it's not particularly stable; Jian Xue won't fall over on her own, but as the weight of the figure is concentrated towards its right side, she's prone to tipping over if jostled. I wouldn't place this figure anywhere where she might be bumped (I won't be putting her in my Detolf cabinet either, since it shakes quite a bit whenever I open the door).
The sculpt is stunning. She's given an action pose where she rides the waves, her discus-like weapon ready. She's got the ever-popular hair-over-one-eye look with her majestic tendrils of hair whipping behind her. If anyone's curious, her left eye is fully painted.
Her paint job is similarly fantastic. Her clothing is painted glossy navy blue and gold, a classic color scheme that's worked for the University of Notre Dame, the Washington Wizards, and the US Navy. Her hair is painted a charcoal color rather than straight black, a choice that I particularly like. She's got a touch of eye shadow, delivering an extra sense of realism.
She's also got a couple of tattoos. I'm not normally all that fond of girls with ink but the crane tattoo looks awesome. At least, I think that's a crane; it also looks a bit like a dragon. The rose doesn't look quite as good; it would've been better if it weren't quite so bright and colorful.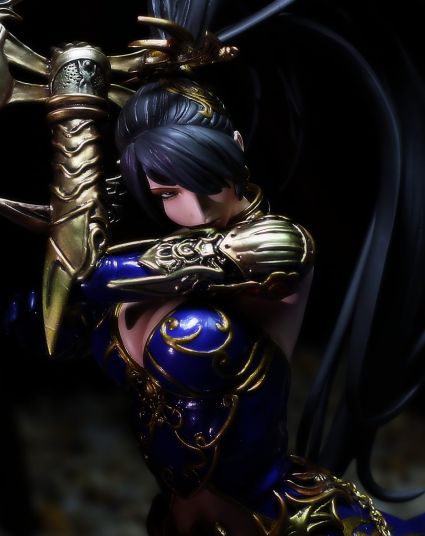 Jian Xue is billed as a partner of Fei Yan, whom I didn't buy. Fei Yan looks aight but isn't nearly as striking as Jian Xue.
Jian Xue is a nice change from the anime girls that I've received recently. I have quite a few figures from E2046's ORI series, and this one is just as amazing as the rest of them.
The white background really did not turn out nearly as well as I had hoped in these photos. Oh well. I'm going to have to figure out how to use something other than a white or black backdrop one of these days.